2016 Electric Club Car Precedent Golf Cart with Warranty
All items closed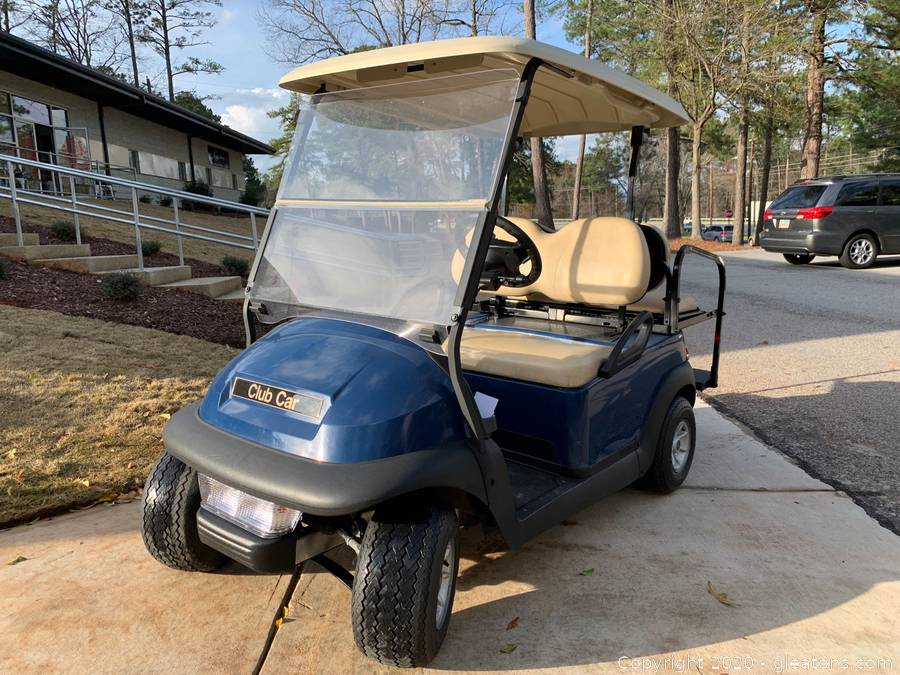 2016 Electric Club Car Precedent Golf Cart with Warranty
Bidding is

closed

.
High Bid:
$3,781.00
NA
Bidding Ended:
Tue, Feb 18 8:04:51 pm ET
High Bidder:
3500
Bid Increment:
$25.00
Starting Bid:
$5.00
Item Location:

100 Clover Green

,

Peachtree City

,

GA

30269

Item has been viewed 1,021 times.

OR BEST OFFER

Completely Serviced 
Great Condition
Offering 3 Day Warranty against any major mechanical issues to be confirmed by Discount Golf Cart in Peachtree City that there were no previous mechanical issues at Auction Closing.
Blue
Four Seats
Deluxe Seat Kit
With Charger
Back Seat Folds Out For Additional Hauling Capabilities
2016 Electric Golf Cart with Warranty!
| | | |
| --- | --- | --- |
| Bid Date | Bid Amount | Bidder |
| Feb 18, 2020 - 9:03:51 PM | $3,781.00 | i3500 |
| Feb 18, 2020 - 9:03:05 PM | $3,756.00 | i1474 |
| Feb 18, 2020 - 9:03:05 PM | $3,750.00 | i3500 |
| Feb 18, 2020 - 9:02:50 PM | $3,725.00 | i1474 |
| Feb 18, 2020 - 9:02:50 PM | $3,700.00 | i3500 |
| Feb 18, 2020 - 9:02:49 PM | $3,653.00 | i1474 |
| Feb 18, 2020 - 9:02:49 PM | $3,628.00 | i6468 |
| Feb 18, 2020 - 9:02:03 PM | $3,603.00 | i1474 |
| Feb 18, 2020 - 9:01:27 PM | $3,578.00 | i3500 |
| Feb 18, 2020 - 9:01:22 PM | $3,553.00 | i1474 |
| Feb 18, 2020 - 9:01:22 PM | $3,550.00 | i3500 |
| Feb 18, 2020 - 9:01:15 PM | $3,525.00 | i1474 |
| Feb 18, 2020 - 9:01:15 PM | $3,500.00 | i6468 |
| Feb 18, 2020 - 9:01:06 PM | $3,475.00 | i1474 |
| Feb 18, 2020 - 9:01:06 PM | $3,450.00 | i6468 |
| Feb 18, 2020 - 9:01:04 PM | $3,425.00 | i1474 |
| Feb 18, 2020 - 9:01:04 PM | $3,400.00 | i3500 |
| Feb 18, 2020 - 9:00:33 PM | $3,375.00 | i1474 |
| Feb 18, 2020 - 9:00:33 PM | $3,350.00 | i6468 |
| Feb 18, 2020 - 9:00:21 PM | $3,325.00 | i1474 |
| Feb 18, 2020 - 9:00:21 PM | $3,300.00 | i6468 |
| Feb 18, 2020 - 8:59:59 PM | $3,275.00 | i1474 |
| Feb 18, 2020 - 8:59:46 PM | $3,250.00 | i3500 |
| Feb 18, 2020 - 8:59:46 PM | $3,230.27 | i1474 |
| Feb 18, 2020 - 8:59:37 PM | $3,225.00 | i1474 |
| Feb 18, 2020 - 8:59:37 PM | $3,200.00 | i3500 |
| Feb 18, 2020 - 8:59:24 PM | $2,925.00 | i1474 |
| Feb 18, 2020 - 8:59:24 PM | $2,900.00 | i3500 |
| Feb 18, 2020 - 8:59:18 PM | $2,875.00 | i1474 |
| Feb 18, 2020 - 8:59:18 PM | $2,850.00 | i3500 |
| Feb 18, 2020 - 8:59:12 PM | $2,825.00 | i1474 |
| Feb 18, 2020 - 8:59:12 PM | $2,800.00 | i3500 |
| Feb 18, 2020 - 8:59:06 PM | $2,775.00 | i1474 |
| Feb 18, 2020 - 8:59:06 PM | $2,750.00 | i3500 |
| Feb 18, 2020 - 8:58:50 PM | $2,725.00 | i1474 |
| Feb 18, 2020 - 8:58:50 PM | $2,700.00 | i3500 |
| Feb 18, 2020 - 8:54:22 PM | $2,525.00 | i3500 |
| Feb 18, 2020 - 8:54:08 PM | $2,500.00 | i3777 |
| Feb 18, 2020 - 8:54:08 PM | $2,475.00 | i3500 |
| Feb 18, 2020 - 8:54:02 PM | $2,450.00 | i3777 |
| Feb 18, 2020 - 8:54:02 PM | $2,425.00 | i3500 |
| Feb 18, 2020 - 8:53:53 PM | $2,400.00 | i3777 |
| Feb 18, 2020 - 8:53:53 PM | $2,375.00 | i3500 |
| Feb 18, 2020 - 8:49:47 PM | $2,350.00 | i3777 |
| Feb 18, 2020 - 8:45:29 PM | $2,325.00 | i3500 |
| Feb 18, 2020 - 8:45:24 PM | $2,300.00 | i3777 |
| Feb 18, 2020 - 8:45:24 PM | $2,275.00 | i3500 |
| Feb 18, 2020 - 8:45:19 PM | $2,250.00 | i3777 |
| Feb 18, 2020 - 8:45:19 PM | $2,225.00 | i3500 |
| Feb 18, 2020 - 8:45:12 PM | $2,200.00 | i3777 |
| Feb 18, 2020 - 8:45:12 PM | $2,175.00 | i3500 |
| Feb 18, 2020 - 7:47:23 PM | $2,150.00 | i3777 |
| Feb 18, 2020 - 7:21:15 PM | $2,125.00 | i809 |
| Feb 18, 2020 - 7:21:03 PM | $2,100.00 | i3777 |
| Feb 18, 2020 - 7:21:04 PM | $2,100.00 | i809 |
| Feb 18, 2020 - 7:20:56 PM | $2,075.00 | i3777 |
| Feb 18, 2020 - 7:20:56 PM | $2,050.00 | i809 |
| Feb 18, 2020 - 7:20:43 PM | $2,025.00 | i3777 |
| Feb 18, 2020 - 7:20:43 PM | $2,000.00 | i809 |
| Feb 18, 2020 - 6:55:58 PM | $1,900.00 | i3777 |
| Feb 18, 2020 - 6:44:52 PM | $1,875.00 | i5118 |
| Feb 18, 2020 - 12:41:19 AM | $1,850.00 | i2335 |
| Feb 17, 2020 - 1:59:27 PM | $1,825.00 | i3500 |
| Feb 16, 2020 - 11:48:34 PM | $1,800.00 | i2335 |
| Feb 16, 2020 - 11:48:35 PM | $1,800.00 | i6349 |
| Feb 16, 2020 - 11:48:22 PM | $1,426.00 | i2335 |
| Feb 16, 2020 - 11:48:22 PM | $1,401.00 | i6349 |
| Feb 16, 2020 - 4:03:37 PM | $1,376.00 | i2335 |
| Feb 16, 2020 - 4:03:37 PM | $1,351.00 | i6003 |
| Feb 16, 2020 - 4:03:14 PM | $1,301.00 | i2335 |
| Feb 16, 2020 - 4:03:14 PM | $1,276.00 | i6003 |
| Feb 16, 2020 - 2:37:34 PM | $1,227.00 | i2335 |
| Feb 16, 2020 - 2:37:34 PM | $1,202.00 | i6003 |
| Feb 16, 2020 - 2:36:51 PM | $1,075.00 | i6003 |
| Feb 16, 2020 - 2:36:51 PM | $1,050.00 | i2335 |
| Feb 13, 2020 - 8:26:25 PM | $1,025.00 | i6003 |
| Feb 13, 2020 - 8:26:25 PM | $1,000.00 | i5172 |
| Feb 13, 2020 - 11:46:55 AM | $580.00 | i5172 |
| Feb 13, 2020 - 11:46:55 AM | $555.00 | i4484 |
| Feb 13, 2020 - 11:46:22 AM | $12.50 | i4484 |
| Feb 13, 2020 - 11:46:22 AM | $10.00 | i5172 |
| Feb 12, 2020 - 8:19:31 PM | $7.50 | i4484 |
| Feb 12, 2020 - 6:51:51 PM | $5.00 | i909 |