REAL ESTATE AUCTION of Amazing Braselton Home, Acreage & Buildings
All items closed
AUCTION of this Fine Country Estate! Spacious Home with 4 Bedrooms, 3 Baths. Beautiful double sided stone fireplace, large living area, & nice kitchen. Master is on Main! The outdoor space is very private and amazing with 2 large separate heated & cooled buildings perfect for separate living space and valuable shop. This property has so much potential with the commercial & residential development going on in the area on Hwy. 53. Just minutes from I-85! All bids and offers including final bid is subject to seller confirmation & approval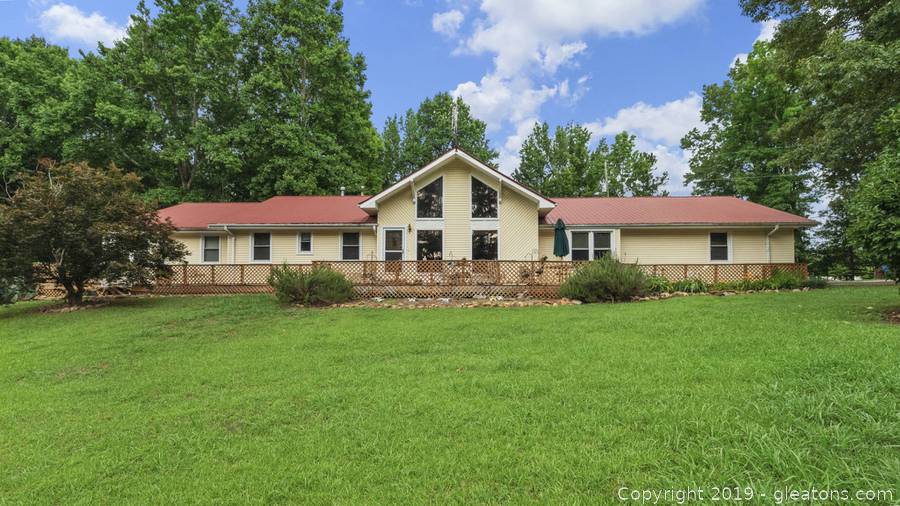 AUCTION of Amazing Braselton Home, Acreage & Buildings - 8865 Hwy. 53 Braselton, GA
Bidding is

closed

.
High Bid:
$246,000.00
NA
Bidding Ended:
Fri, Jan 10 4:10:44 pm ET
High Bidder:
6262
Bid Increment:
$2,500.00
Starting Bid:
$5.00
Item Location:

8865 Hwy. 53

,

Braselton

,

GA

30517

Item has been viewed 8,967 times.

OR BEST OFFER

AUCTION of this Fine Country Estate! Spacious Home with 4 Bedrooms, 3 Baths. Beautiful double sided stone fireplace, large living area, & nice kitchen. Master is on Main! The outdoor space is very private and amazing with 2 large separate heated & cooled buildings perfect for separate living space and valuable shop. This property has so much potential with the commercial & residential development going on in the area on Hwy. 53. Just minutes from I-85! All bids and offers including final bid is subject to seller confirmation & approval.
2.58 Acres of Prime Investment / Commercial Potential Property. Three Miles from I-85 Exit 129, Just an eighth of a mile from Year One and Six and One Half miles from I-985 Exit 16, at Mundy Mill Road (Highway 53) Oakwood. One and One Half mile from Michelin's Road Atlanta. This Property has Approximately 190 Feet of Highway 53 frontage In both Hall and Jackson Counties, in one of the fastest growing areas in the Continental U.S., with a traffic count of approximately 20,000 a day all county services of two counties available, including new Hospital and Medical Centers within Three miles, New Schools, Fire and rescue - 1/2 mile. Fronting and the Only Access on Highway 53 for a 750 Acre fully Zoned Mix Use Planed Urban Development, 520 Acres currently in progress.
Located on the Property which is currently zoned residential and agricultural is a House with 6000 Square feet under roof, 3000 square foot above grade includes 3 bedrooms, two full baths, a master piece rock fire place Chimney structure containing three chimneys. Two huge fire places one opening into the living room, one opening into the family room of the main living area, a chalet style cathedral ceiling and slightly sunken floor. A large formal dining room and large eat in Kitchen. There is also a full apartment, one bedroom, kitchen, living area with separate entrance, handicap ramps for accessible entry and a newly remodeled bathroom with a handicapped step less shower including Handicap bars and built in seat for multi-generational, family or rental use. Included with the above grade area (but not part of the 3000 Sq. Ft.) is an oversized two car garage with duel doors and electric garage door openers with separate work area. A Wrap-around deck and back porch, also above grade.
Partially below grade is a half-finished area with a bar and a wood burning stove accounting for the third chimney of the stone fire place structure. There is a water closet and separate kitchen area. A door leads out to a future veranda waiting to be utilized after completion of an additional 3 bed / 2 bath.
New Metal roof and New flooring upstairs and a newly reinstalled septic system are just a few of the recent upgrades and improvements.
Dethatched from housing structure are the following:
A newly constructed large 40' by 30', 1,200 square foot metal building / shop, with auto Rotary lift, walk in and two large roll up doors, insulated with retractable vents. Set up as an automotive shop.
A 55' by 24+' 1350 Sq. Ft. Store front / food service building with a metal roof, separate new septic system, two bathrooms, a 400 amp single phase electrical system, natural gas and water. All underground utilities, a walk-in cooler, hood with fire suppression system duel HVAC systems. Possible Store Fixtures at purchase Price.
A large open front storage shed.
Ample parking.
Lending this property to many unique possibilities included but not limited to a live and work at the same location, multi-generational living spaces or with a little investment five potential rental units allowing the property to carry and even make a profit while waiting on the upcoming mixed use development to catch up to this commercial access point.
You must see this property to appreciate and understand its many potentials.  
PRE-AUCTION OFFERS ENCOURAGED
4 Bedroom 3 Bath
Square Footage: 3074 Finished 3000 Unfinished (Public Record)
Tax ID: 060825030 & 15028B000043 (Property in Jackson & Hall County)
Taxes 2019: $3108.75
Year Built: 1984
Showing & Inspection - Set appointment at: 678-725-8757 
All bids and offers including final bid is subject to seller confirmation & approval
| | | |
| --- | --- | --- |
| Bid Date | Bid Amount | Bidder |
| Jan 10, 2020 - 5:09:44 PM | $246,000.00 | i6262 |
| Jan 10, 2020 - 5:08:46 PM | $243,500.00 | i832 |
| Jan 10, 2020 - 5:08:46 PM | $241,500.00 | i6262 |
| Jan 10, 2020 - 5:07:52 PM | $241,000.00 | i6262 |
| Jan 10, 2020 - 5:06:53 PM | $238,500.00 | i832 |
| Jan 10, 2020 - 5:06:42 PM | $236,000.00 | i5263 |
| Jan 10, 2020 - 5:06:42 PM | $233,900.00 | i6262 |
| Jan 10, 2020 - 5:06:24 PM | $233,500.00 | i6262 |
| Jan 10, 2020 - 5:05:29 PM | $231,000.00 | i832 |
| Jan 10, 2020 - 5:05:29 PM | $229,000.00 | i6262 |
| Jan 10, 2020 - 5:05:00 PM | $228,500.00 | i6262 |
| Jan 10, 2020 - 5:04:46 PM | $226,000.00 | i832 |
| Jan 10, 2020 - 5:04:21 PM | $223,500.00 | i5263 |
| Jan 10, 2020 - 5:04:21 PM | $221,500.00 | i6262 |
| Jan 10, 2020 - 5:04:07 PM | $221,000.00 | i6262 |
| Jan 10, 2020 - 5:03:55 PM | $218,500.00 | i832 |
| Jan 10, 2020 - 5:03:55 PM | $216,500.00 | i6262 |
| Jan 10, 2020 - 5:03:23 PM | $216,000.00 | i6262 |
| Jan 10, 2020 - 5:02:39 PM | $213,500.00 | i832 |
| Jan 10, 2020 - 5:02:39 PM | $211,100.00 | i6262 |
| Jan 10, 2020 - 5:02:01 PM | $211,000.00 | i6262 |
| Jan 10, 2020 - 5:01:45 PM | $208,500.00 | i5263 |
| Jan 10, 2020 - 5:01:45 PM | $206,100.00 | i6262 |
| Jan 10, 2020 - 5:01:44 PM | $206,000.00 | i6262 |
| Jan 10, 2020 - 5:01:21 PM | $203,500.00 | i832 |
| Jan 10, 2020 - 5:00:56 PM | $201,000.00 | i6262 |
| Jan 10, 2020 - 5:00:56 PM | $200,000.00 | i5263 |
| Jan 10, 2020 - 5:00:41 PM | $199,000.00 | i5263 |
| Jan 10, 2020 - 5:00:41 PM | $198,000.00 | i6262 |
| Jan 10, 2020 - 5:00:26 PM | $197,900.00 | i6262 |
| Jan 10, 2020 - 5:00:09 PM | $196,900.00 | i5263 |
| Jan 10, 2020 - 5:00:03 PM | $195,900.00 | i6262 |
| Jan 10, 2020 - 5:00:03 PM | $195,000.00 | i6260 |
| Jan 10, 2020 - 4:59:47 PM | $193,900.00 | i6260 |
| Jan 10, 2020 - 4:59:16 PM | $192,900.00 | i6262 |
| Jan 10, 2020 - 4:59:16 PM | $192,000.00 | i6260 |
| Jan 10, 2020 - 4:59:09 PM | $191,000.00 | i6260 |
| Jan 10, 2020 - 4:58:55 PM | $190,000.00 | i5263 |
| Jan 10, 2020 - 4:58:56 PM | $190,000.00 | i6260 |
| Jan 10, 2020 - 4:58:34 PM | $188,000.00 | i5263 |
| Jan 10, 2020 - 4:58:34 PM | $187,000.00 | i6260 |
| Jan 10, 2020 - 4:58:25 PM | $186,000.00 | i5263 |
| Jan 10, 2020 - 4:58:22 PM | $185,000.00 | i6262 |
| Jan 10, 2020 - 4:58:23 PM | $185,000.00 | i6260 |
| Jan 10, 2020 - 4:58:09 PM | $183,000.00 | i6262 |
| Jan 10, 2020 - 4:58:09 PM | $182,000.00 | i5263 |
| Jan 10, 2020 - 4:57:00 PM | $181,000.00 | i6262 |
| Jan 10, 2020 - 4:57:00 PM | $180,000.00 | i6260 |
| Jan 10, 2020 - 4:56:25 PM | $179,900.00 | i6260 |
| Jan 10, 2020 - 4:56:25 PM | $178,900.00 | i6262 |
| Jan 10, 2020 - 4:55:52 PM | $177,900.00 | i6260 |
| Jan 10, 2020 - 4:55:52 PM | $176,900.00 | i6262 |
| Jan 10, 2020 - 2:25:13 PM | $175,000.00 | i6260 |
| Jan 10, 2020 - 2:25:13 PM | $174,000.00 | i6272 |
| Jan 10, 2020 - 2:24:49 PM | $159,000.00 | i6260 |
| Jan 10, 2020 - 2:24:49 PM | $158,000.00 | i6272 |
| Jan 10, 2020 - 1:45:37 PM | $155,000.00 | i6260 |
| Jan 9, 2020 - 11:43:13 AM | $154,000.00 | i832 |
| Jan 9, 2020 - 11:43:08 AM | $153,000.00 | i6262 |
| Jan 9, 2020 - 11:43:09 AM | $153,000.00 | i832 |
| Jan 9, 2020 - 9:58:28 AM | $152,000.00 | i6262 |
| Jan 8, 2020 - 7:07:23 AM | $151,000.00 | i832 |
| Jan 8, 2020 - 7:07:18 AM | $150,000.00 | i5263 |
| Jan 8, 2020 - 7:07:18 AM | $149,000.00 | i832 |
| Jan 8, 2020 - 7:07:12 AM | $148,000.00 | i5263 |
| Jan 8, 2020 - 7:07:12 AM | $147,000.00 | i832 |
| Jan 8, 2020 - 7:07:07 AM | $146,000.00 | i5263 |
| Jan 8, 2020 - 7:07:07 AM | $145,000.00 | i832 |
| Jan 8, 2020 - 7:07:00 AM | $144,000.00 | i5263 |
| Jan 8, 2020 - 7:07:00 AM | $143,000.00 | i832 |
| Jan 8, 2020 - 7:06:21 AM | $141,000.00 | i5263 |
| Jan 8, 2020 - 7:06:21 AM | $140,000.00 | i832 |
| Jan 8, 2020 - 7:05:29 AM | $139,000.00 | i5263 |
| Jan 8, 2020 - 7:05:29 AM | $138,000.00 | i832 |
| Jan 8, 2020 - 7:05:25 AM | $137,000.00 | i5263 |
| Jan 8, 2020 - 7:05:25 AM | $136,000.00 | i832 |
| Jan 8, 2020 - 7:05:21 AM | $135,000.00 | i5263 |
| Jan 8, 2020 - 7:05:21 AM | $134,000.00 | i832 |
| Jan 8, 2020 - 7:05:17 AM | $133,000.00 | i5263 |
| Jan 8, 2020 - 7:05:17 AM | $132,000.00 | i832 |
| Jan 8, 2020 - 7:05:12 AM | $131,000.00 | i5263 |
| Jan 8, 2020 - 7:05:12 AM | $130,000.00 | i832 |
| Jan 8, 2020 - 7:05:07 AM | $129,000.00 | i5263 |
| Jan 8, 2020 - 7:05:07 AM | $128,000.00 | i832 |
| Jan 8, 2020 - 7:05:02 AM | $127,000.00 | i5263 |
| Jan 8, 2020 - 7:05:02 AM | $126,000.00 | i832 |
| Jan 8, 2020 - 7:04:55 AM | $125,000.00 | i5263 |
| Jan 8, 2020 - 7:04:55 AM | $124,000.00 | i832 |
| Jan 8, 2020 - 7:04:47 AM | $123,000.00 | i5263 |
| Jan 8, 2020 - 7:04:47 AM | $122,000.00 | i832 |
| Jan 7, 2020 - 12:12:13 PM | $121,000.00 | i5263 |
| Jan 7, 2020 - 12:12:13 PM | $120,000.00 | i486 |
| Jan 1, 2020 - 7:55:29 PM | $99,000.00 | i486 |
| Dec 29, 2019 - 8:24:12 PM | $98,500.00 | i832 |
| Dec 29, 2019 - 8:24:07 PM | $98,000.00 | i486 |
| Dec 29, 2019 - 8:24:08 PM | $98,000.00 | i832 |
| Dec 29, 2019 - 8:24:03 PM | $97,500.00 | i486 |
| Dec 29, 2019 - 8:24:03 PM | $97,000.00 | i832 |
| Dec 29, 2019 - 8:23:58 PM | $96,500.00 | i486 |
| Dec 29, 2019 - 8:23:58 PM | $96,000.00 | i832 |
| Dec 29, 2019 - 8:23:53 PM | $95,500.00 | i486 |
| Dec 29, 2019 - 8:23:53 PM | $95,000.00 | i832 |
| Dec 29, 2019 - 8:23:44 PM | $94,500.00 | i486 |
| Dec 29, 2019 - 8:23:44 PM | $94,000.00 | i832 |
| Dec 29, 2019 - 8:23:37 PM | $93,500.00 | i486 |
| Dec 29, 2019 - 8:23:37 PM | $93,000.00 | i832 |
| Dec 29, 2019 - 8:23:32 PM | $92,500.00 | i486 |
| Dec 29, 2019 - 8:23:32 PM | $92,000.00 | i832 |
| Dec 29, 2019 - 8:23:24 PM | $91,500.00 | i486 |
| Dec 29, 2019 - 8:23:24 PM | $91,000.00 | i832 |
| Dec 29, 2019 - 8:23:17 PM | $90,500.00 | i486 |
| Dec 29, 2019 - 8:23:17 PM | $90,000.00 | i832 |
| Dec 29, 2019 - 8:23:08 PM | $89,500.00 | i486 |
| Dec 29, 2019 - 8:23:08 PM | $89,000.00 | i832 |
| Dec 29, 2019 - 8:51:30 AM | $88,500.00 | i486 |
| Dec 29, 2019 - 8:51:30 AM | $88,000.00 | i6225 |
| Dec 21, 2019 - 8:06:29 PM | $80,500.00 | i486 |
| Dec 21, 2019 - 8:06:29 PM | $80,000.00 | i3735 |
| Dec 18, 2019 - 7:12:35 PM | $75,500.00 | i3735 |
| Dec 18, 2019 - 7:12:35 PM | $75,000.00 | i486 |
| Dec 18, 2019 - 7:12:16 PM | $60,500.00 | i486 |
| Dec 18, 2019 - 7:12:16 PM | $60,000.00 | i3735 |
| Dec 18, 2019 - 7:11:53 PM | $52,500.00 | i486 |
| Dec 18, 2019 - 7:11:53 PM | $52,000.00 | i3735 |
| Dec 12, 2019 - 12:37:36 PM | $51,075.00 | i486 |
| Dec 12, 2019 - 12:37:36 PM | $50,575.00 | i1057 |
| Dec 11, 2019 - 11:32:46 AM | $50,250.00 | i1057 |
| Dec 11, 2019 - 11:32:46 AM | $50,000.00 | i3458 |
| Dec 11, 2019 - 10:01:34 AM | $30,250.00 | i3458 |
| Dec 11, 2019 - 10:01:34 AM | $30,000.00 | i1057 |
| Dec 11, 2019 - 10:01:19 AM | $20,100.00 | i1057 |
| Dec 11, 2019 - 10:01:19 AM | $20,000.00 | i3458 |
| Dec 11, 2019 - 10:00:27 AM | $10,100.00 | i1057 |
| Dec 11, 2019 - 10:00:27 AM | $10,000.00 | i3458 |
| Dec 11, 2019 - 9:26:37 AM | $210.00 | i3458 |
| Dec 11, 2019 - 9:26:37 AM | $200.00 | i1393 |
| Dec 11, 2019 - 9:26:20 AM | $20.00 | i1393 |
| Dec 11, 2019 - 9:26:20 AM | $15.00 | i3458 |
| Dec 10, 2019 - 5:13:14 PM | $10.00 | i1393 |
| Dec 10, 2019 - 1:20:58 PM | $5.00 | i3735 |