Phenomenal Multi Million Dollar Home Furnishings and Decor Online Auction (170)
All items closed
IN-GALLERY PREVIEW EVERY Thursday from 10:00 am to 3:00 pm at 100 Clover Green, Peachtree City, GA 30269 (Gleaton's Gallery) 
GALLERY PICK UP:  Monday, June 5 ONLY  11:00 am - 5:00 pm  at 100 Clover Green, Peachtree City, GA 30269 - If items are not removed this day, they will be relisted without refund for the next auction.  Sellers are scheduled to deliver their items that evening in the space where you items are.  If you need delivery, please use roadie.com Thank you for understanding.
This is an Online Auction presented by Gleaton's. Gleaton's is the best auction company and highest rated online auction marketplace in Metro Atlanta area. Gleaton's is the go to company for Estate Sales in Atlanta GA area, Business Liquidations in Metro Atlanta and Georgia Region & Real Estate Auctions and Listings. 
« Back to list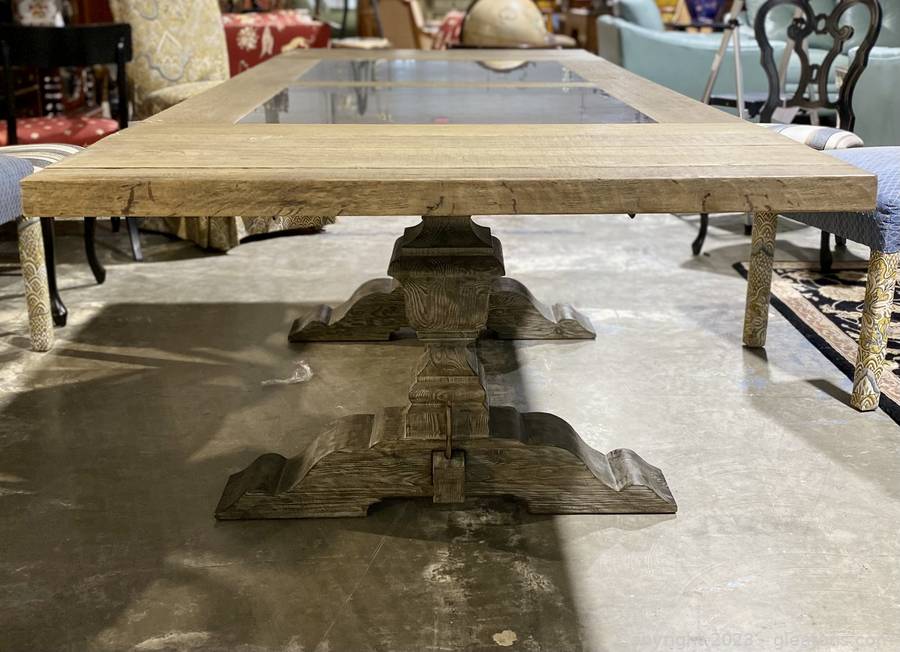 Lot #3108:
Heavy Rustic Style Dining Table W 2-28" x 27" Centered Marble Sections on Wooden-like Surface
Bidding is

closed

.
High Bid:
$270.00
NA
Bidding Ended:
Sun, Jun 4 8:02:00 pm ET
High Bidder:
17268
Bid Increment:
$10.00
Starting Bid:
$5.00
Item Location:

100 Clover Green

,

Peachtree City

,

GA

30269

Item has been viewed 345 times.

Table without leaves=82" L x 39" W x 31" H
2 Leaves attached to both ends: 15" w each=112" L total
Trestle between 2 legs. Good cond.
Chairs not included in this lot
Made in China
| | | |
| --- | --- | --- |
| Bid Date | Bid Amount | Bidder |
| Jun 4, 2023 - 8:04:11 PM | $270.00 | i17268 |
| Jun 4, 2023 - 8:04:08 PM | $260.00 | i15223 |
| Jun 4, 2023 - 8:03:19 PM | $250.00 | i16833 |
| Jun 4, 2023 - 8:03:19 PM | $245.00 | i17268 |
| Jun 4, 2023 - 8:02:35 PM | $240.00 | i17268 |
| Jun 4, 2023 - 8:02:34 PM | $230.00 | i15223 |
| Jun 4, 2023 - 8:01:58 PM | $220.00 | i16833 |
| Jun 4, 2023 - 8:01:48 PM | $210.00 | i17268 |
| Jun 4, 2023 - 8:01:48 PM | $201.00 | i16833 |
| Jun 4, 2023 - 7:59:48 PM | $191.00 | i17268 |
| Jun 4, 2023 - 7:59:38 PM | $181.00 | i16833 |
| Jun 4, 2023 - 7:59:21 PM | $171.00 | i15223 |
| Jun 4, 2023 - 7:57:58 PM | $161.00 | i16833 |
| Jun 4, 2023 - 7:57:42 PM | $151.00 | i15223 |
| Jun 4, 2023 - 7:57:43 PM | $151.00 | i16833 |
| Jun 4, 2023 - 7:49:19 PM | $141.00 | i15223 |
| Jun 4, 2023 - 7:41:55 PM | $131.00 | i15940 |
| Jun 4, 2023 - 7:31:31 PM | $121.00 | i9752 |
| Jun 4, 2023 - 7:24:58 PM | $111.00 | i16833 |
| Jun 4, 2023 - 7:01:50 PM | $101.00 | i9752 |
| Jun 4, 2023 - 6:05:08 PM | $96.00 | i16833 |
| Jun 4, 2023 - 6:03:34 PM | $91.00 | i15223 |
| Jun 4, 2023 - 6:03:35 PM | $91.00 | i16833 |
| Jun 4, 2023 - 5:24:17 PM | $86.00 | i15223 |
| Jun 3, 2023 - 11:06:56 PM | $81.00 | i16833 |
| Jun 3, 2023 - 11:05:36 PM | $76.00 | i17268 |
| Jun 3, 2023 - 11:05:36 PM | $75.00 | i16833 |
| Jun 3, 2023 - 1:08:31 AM | $70.00 | i17268 |
| Jun 2, 2023 - 6:49:38 PM | $65.00 | i16833 |
| Jun 2, 2023 - 2:53:43 PM | $60.00 | i9752 |
| May 30, 2023 - 6:33:14 PM | $55.00 | i17268 |
| May 29, 2023 - 10:21:27 AM | $50.00 | i16833 |
| May 27, 2023 - 10:02:09 AM | $45.00 | i15223 |
| May 27, 2023 - 10:02:10 AM | $45.00 | i16722 |
| May 26, 2023 - 9:01:22 PM | $40.00 | i15223 |
| May 26, 2023 - 9:01:22 PM | $35.00 | i16833 |
| May 26, 2023 - 9:01:13 PM | $30.00 | i15223 |
| May 26, 2023 - 9:01:13 PM | $25.00 | i16833 |
| May 26, 2023 - 9:01:03 PM | $20.00 | i15223 |
| May 26, 2023 - 9:01:03 PM | $17.50 | i16833 |
| May 26, 2023 - 9:00:57 PM | $15.00 | i15223 |
| May 26, 2023 - 9:00:57 PM | $12.50 | i16833 |
| May 26, 2023 - 9:00:49 PM | $10.00 | i15223 |
| May 26, 2023 - 9:00:49 PM | $7.50 | i16833 |
| May 25, 2023 - 9:56:04 PM | $5.00 | i15223 |