Brand New Golf Cart Online Auction
Bidding Now! -
ends Sun, Mar 26 at 07:00:00 pm
IN-GALLERY MARKET SALE: EVERY Thursday from 10:00 am to 3:00 pm at 100 Clover Green, Peachtree City, GA 30269 (Gleaton's Gallery) 
Click Here for Pick Up Resources
Click Here to Sell with Gleaton's
This is an Online Auction presented by Gleaton's. Gleaton's is the best auction company and highest rated online auction marketplace in Metro Atlanta area. Gleaton's is the go to company for Estate Sales in Atlanta GA area, Business Liquidations in Metro Atlanta and Georgia Region & Real Estate Auctions and Listings.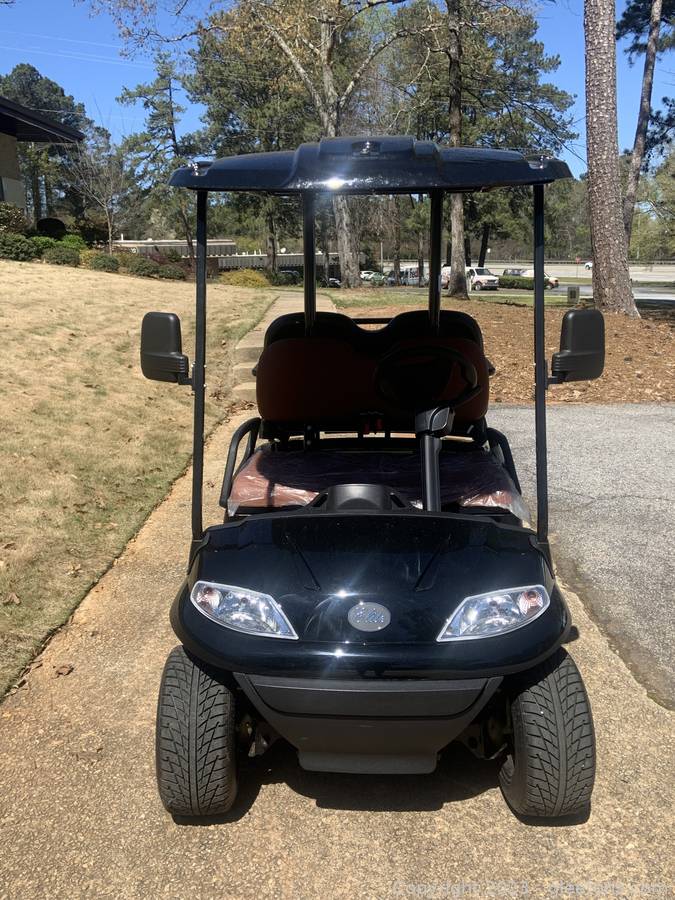 **Brand New** 2022 Advanced EV Elite Electric Golf Cart
Current Bid
$4,525.00
NA
Time Remaining:
2 days, 10 hours
Extended Bidding:
i
Bidding Ends:
Sun, Mar 26 7:00:00 pm ET
High Bidder:
16416
Bid Increment:
$25.00
Starting Bid:
$5.00
Item Location:

100 Clover Green

,

Peachtree City

,

GA

30269

Item has been viewed 1,429 times.

OR BEST OFFER

Meet the latest in EV technology from Advanced EV. Advanced EV took the best features to create a brand that would stand out with time-tested features and the latest in technology. This golf car puts class, looks and performance all in one package. This powerful AC (alternating current) drive system will keep power, performance and torque all together from the moment you hit the pedal
The Pro Charging System charger provides a quick and complete charge every time. It's regenerating braking is standard which re-captures energy during the braking process which previously would be wasted in your charge.
The stock features meets all the requirements for being a street legal golf car or low speed vehicle in most jurisdictions. 
Car comes with headlights, taillights, brake lights, turn signals, a horn and retractable seat belts on every row. In addition to that the rear facing back seats feature a safety bar for added security for it's passengers. Rear Seat Folds down as pictured for cargo hauling.
Model LT-A627.2+2
141 Miles 
Other Notable Features:
Foldable/Removable Windshield- NIB
On-Board Charger
Aluminum Wheels
4 Wheel Disc Brakes
Headlights & Taillights
Brake Lights & Turn Signal
Side mirrors
Digital Speedometer
Charge Meter
Rear Facing Back Seat
3 Point Seat Belt System
Painted Top Roof
Hand Holders
USB Ports
Cup Holders
Specs: Motor : 48V / 4KW AC
MOTOR LITHIUM Battery Pack
Controller: Toyota 350A
Top Speed: 24 mph
Climbing Ability: 25% Ground Clearance: 6.3 in
Turning Radius: 11.81 ft
Seating Capacity: 4 people
Length 111" Width 47" Height 73.8" Weight: 1257 lbs
Paint Color Black
| | | |
| --- | --- | --- |
| Bid Date | Bid Amount | Bidder |
| Mar 21, 2023 - 4:45:36 PM | $4,525.00 | i16416 |
| Mar 21, 2023 - 4:45:36 PM | $4,500.00 | i11422 |
| Mar 21, 2023 - 4:45:03 PM | $4,375.00 | i11422 |
| Mar 21, 2023 - 4:45:03 PM | $4,350.00 | i16416 |
| Mar 18, 2023 - 10:59:07 AM | $4,325.00 | i11422 |
| Mar 18, 2023 - 10:59:07 AM | $4,300.00 | i14093 |
| Mar 18, 2023 - 10:58:53 AM | $4,225.00 | i11422 |
| Mar 18, 2023 - 10:58:53 AM | $4,200.00 | i14093 |
| Mar 18, 2023 - 10:58:44 AM | $4,175.00 | i11422 |
| Mar 18, 2023 - 10:58:44 AM | $4,150.00 | i14093 |
| Mar 18, 2023 - 10:58:40 AM | $4,125.00 | i11422 |
| Mar 18, 2023 - 10:58:40 AM | $4,100.00 | i14093 |
| Mar 18, 2023 - 10:58:32 AM | $4,075.00 | i11422 |
| Mar 18, 2023 - 10:58:32 AM | $4,050.00 | i14093 |
| Mar 17, 2023 - 5:15:11 AM | $4,025.00 | i11422 |
| Mar 17, 2023 - 5:15:11 AM | $4,000.00 | i2367 |
| Mar 16, 2023 - 8:22:31 PM | $3,225.00 | i2367 |
| Mar 16, 2023 - 8:22:31 PM | $3,200.00 | i493 |
| Mar 16, 2023 - 8:21:23 PM | $3,025.00 | i2367 |
| Mar 16, 2023 - 8:21:23 PM | $3,000.00 | i493 |
| Mar 16, 2023 - 8:20:23 PM | $2,925.00 | i2367 |
| Mar 16, 2023 - 8:20:23 PM | $2,900.00 | i493 |
| Mar 16, 2023 - 1:57:59 PM | $2,850.00 | i2367 |
| Mar 16, 2023 - 12:28:55 PM | $2,825.00 | i12137 |
| Mar 16, 2023 - 12:28:47 PM | $2,800.00 | i15973 |
| Mar 16, 2023 - 12:28:48 PM | $2,800.00 | i12137 |
| Mar 16, 2023 - 12:28:42 PM | $2,775.00 | i15973 |
| Mar 16, 2023 - 12:28:42 PM | $2,750.00 | i12137 |
| Mar 16, 2023 - 12:28:38 PM | $2,725.00 | i15973 |
| Mar 16, 2023 - 12:28:38 PM | $2,700.00 | i12137 |
| Mar 16, 2023 - 12:28:31 PM | $2,675.00 | i15973 |
| Mar 16, 2023 - 12:28:31 PM | $2,650.00 | i12137 |
| Mar 16, 2023 - 11:48:35 AM | $2,625.00 | i15973 |
| Mar 16, 2023 - 11:48:12 AM | $2,600.00 | i14093 |
| Mar 16, 2023 - 11:48:13 AM | $2,600.00 | i15973 |
| Mar 16, 2023 - 11:42:01 AM | $2,575.00 | i14093 |
| Mar 16, 2023 - 11:42:01 AM | $2,550.00 | i16086 |
| Mar 16, 2023 - 10:53:08 AM | $2,525.00 | i14093 |
| Mar 16, 2023 - 10:53:08 AM | $2,500.00 | i13403 |
| Mar 16, 2023 - 10:52:55 AM | $2,275.00 | i13403 |
| Mar 16, 2023 - 10:52:55 AM | $2,250.00 | i14093 |
| Mar 16, 2023 - 10:52:25 AM | $1,525.00 | i13403 |
| Mar 16, 2023 - 10:52:25 AM | $1,500.00 | i14093 |
| Mar 16, 2023 - 10:36:20 AM | $1,045.00 | i14093 |
| Mar 16, 2023 - 10:36:20 AM | $1,020.00 | i493 |
| Mar 16, 2023 - 2:03:38 AM | $385.00 | i493 |
| Mar 16, 2023 - 2:03:38 AM | $375.00 | i6423 |
| Mar 16, 2023 - 2:03:23 AM | $157.00 | i493 |
| Mar 16, 2023 - 2:03:23 AM | $147.00 | i6423 |
| Mar 15, 2023 - 11:09:42 PM | $5.00 | i493 |