2019 48V Limousine 4 Seat Star Golf Cart EV - Street Legal
All items closed
In Gallery Estate Sale every Thursday from 10:00 am to 3:00 pm at Gleaton's Gallery 100 Clover Green, Peachtree City, GA 30269
SPECIAL PICK UP THURSDAY FEB 2, 2023 10:00am - 3:00pm at 100 Clover Green, Peachtree City, GA 30269 **Or email Lauren@Gleatons.com to schedule a different pick up time.
This is an Online Auction presented by Gleaton's. Gleaton's is the best auction company and highest rated online auction marketplace in Metro Atlanta area. Gleaton's is the go to company for Estate Sales in Atlanta GA area, Business Liquidations in Metro Atlanta and Georgia Region & Real Estate Auctions and Listings.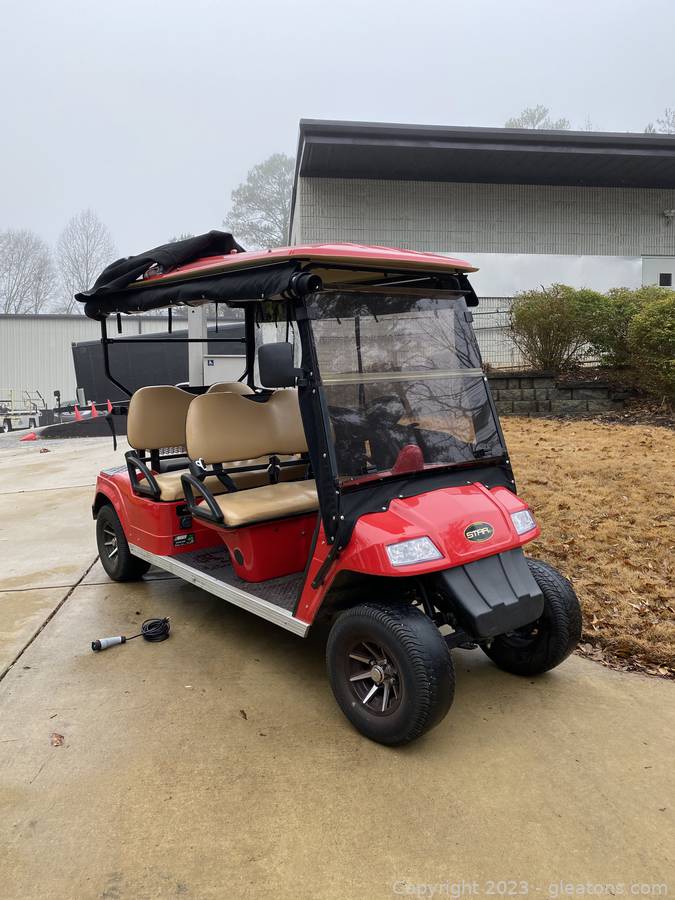 2019 48V Star Golf Cart EV
Bidding is

closed

.
High Bid:
$5,625.00
NA
Bidding Ended:
Tue, Jan 31 7:00:05 pm ET
High Bidder:
16419
Bid Increment:
$25.00
Starting Bid:
$5.00
Item Location:

100 Clover Green

,

Peachtree City

,

GA

30269

Item has been viewed 1,291 times.

OR BEST OFFER

Street legal electric vehicle
4 seat Limousine Style
bluetooth speaker
Nice weather encloser
Serial # AO1944804HS0599
Star Classic
includes charger
holds 2 golf bags
*Dog not included! ;)
| | | |
| --- | --- | --- |
| Bid Date | Bid Amount | Bidder |
| Jan 31, 2023 - 6:59:05 PM | $5,625.00 | i16419 |
| Jan 31, 2023 - 6:59:04 PM | $5,600.00 | i14954 |
| Jan 31, 2023 - 6:36:17 PM | $5,590.01 | i14954 |
| Jan 31, 2023 - 6:36:17 PM | $5,565.01 | i16419 |
| Jan 31, 2023 - 6:33:44 PM | $5,525.00 | i16419 |
| Jan 31, 2023 - 6:33:44 PM | $5,500.00 | i14954 |
| Jan 31, 2023 - 6:33:22 PM | $5,400.00 | i14954 |
| Jan 31, 2023 - 6:33:22 PM | $5,375.00 | i14526 |
| Jan 31, 2023 - 6:32:59 PM | $5,350.00 | i14954 |
| Jan 31, 2023 - 6:32:59 PM | $5,325.00 | i14526 |
| Jan 31, 2023 - 6:32:51 PM | $5,300.00 | i14954 |
| Jan 31, 2023 - 6:32:51 PM | $5,275.00 | i14526 |
| Jan 31, 2023 - 6:19:15 PM | $5,250.00 | i14954 |
| Jan 31, 2023 - 6:18:54 PM | $5,225.00 | i16419 |
| Jan 31, 2023 - 6:18:54 PM | $5,200.00 | i14954 |
| Jan 31, 2023 - 6:18:25 PM | $5,075.00 | i16419 |
| Jan 31, 2023 - 6:18:25 PM | $5,050.00 | i14954 |
| Jan 31, 2023 - 3:45:39 PM | $5,025.00 | i16419 |
| Jan 31, 2023 - 3:45:39 PM | $5,000.00 | i14954 |
| Jan 31, 2023 - 3:34:16 PM | $4,900.00 | i14954 |
| Jan 31, 2023 - 11:32:34 AM | $4,875.00 | i888 |
| Jan 31, 2023 - 11:32:34 AM | $4,865.00 | i16419 |
| Jan 31, 2023 - 11:32:19 AM | $4,850.00 | i16419 |
| Jan 31, 2023 - 11:32:19 AM | $4,825.00 | i888 |
| Jan 31, 2023 - 11:32:10 AM | $4,800.00 | i16419 |
| Jan 31, 2023 - 11:32:10 AM | $4,775.00 | i888 |
| Jan 30, 2023 - 7:38:31 PM | $4,750.00 | i16419 |
| Jan 29, 2023 - 10:35:20 AM | $4,725.00 | i14526 |
| Jan 29, 2023 - 10:34:59 AM | $4,700.00 | i14954 |
| Jan 29, 2023 - 10:34:59 AM | $4,675.00 | i14526 |
| Jan 29, 2023 - 9:28:13 AM | $4,650.00 | i14954 |
| Jan 28, 2023 - 12:28:31 AM | $4,625.00 | i14526 |
| Jan 28, 2023 - 12:28:19 AM | $4,600.00 | i14954 |
| Jan 28, 2023 - 12:28:20 AM | $4,600.00 | i14526 |
| Jan 28, 2023 - 12:28:11 AM | $4,575.00 | i14954 |
| Jan 28, 2023 - 12:28:11 AM | $4,550.00 | i14526 |
| Jan 27, 2023 - 10:42:06 PM | $4,525.00 | i14954 |
| Jan 27, 2023 - 10:41:14 PM | $4,500.00 | i14526 |
| Jan 27, 2023 - 10:41:15 PM | $4,500.00 | i14954 |
| Jan 27, 2023 - 10:40:53 PM | $4,225.00 | i14526 |
| Jan 27, 2023 - 10:40:53 PM | $4,200.00 | i14954 |
| Jan 25, 2023 - 6:37:40 PM | $4,075.00 | i14526 |
| Jan 25, 2023 - 6:37:40 PM | $4,050.00 | i14093 |
| Jan 22, 2023 - 1:58:58 PM | $4,025.00 | i14526 |
| Jan 22, 2023 - 1:58:58 PM | $4,000.00 | i14954 |
| Jan 22, 2023 - 1:36:10 PM | $3,625.00 | i14526 |
| Jan 22, 2023 - 1:36:10 PM | $3,600.00 | i14954 |
| Jan 21, 2023 - 9:46:24 PM | $3,425.00 | i14526 |
| Jan 21, 2023 - 9:46:24 PM | $3,400.00 | i8090 |
| Jan 21, 2023 - 9:46:13 PM | $3,175.00 | i14526 |
| Jan 21, 2023 - 9:46:13 PM | $3,150.00 | i8090 |
| Jan 21, 2023 - 9:46:07 PM | $3,125.00 | i14526 |
| Jan 21, 2023 - 9:46:07 PM | $3,100.00 | i8090 |
| Jan 21, 2023 - 9:46:02 PM | $3,075.00 | i14526 |
| Jan 21, 2023 - 9:46:02 PM | $3,050.00 | i8090 |
| Jan 21, 2023 - 9:45:56 PM | $3,025.00 | i14526 |
| Jan 21, 2023 - 9:45:56 PM | $3,000.00 | i8090 |
| Jan 21, 2023 - 9:45:43 PM | $2,975.00 | i14526 |
| Jan 21, 2023 - 9:45:43 PM | $2,950.00 | i8090 |
| Jan 21, 2023 - 10:45:56 AM | $2,925.00 | i14526 |
| Jan 21, 2023 - 10:45:56 AM | $2,900.00 | i14093 |
| Jan 21, 2023 - 10:45:47 AM | $2,425.00 | i14526 |
| Jan 21, 2023 - 10:45:47 AM | $2,400.00 | i14093 |
| Jan 21, 2023 - 10:43:06 AM | $2,025.00 | i14526 |
| Jan 21, 2023 - 10:43:06 AM | $2,000.00 | i14093 |
| Jan 21, 2023 - 10:17:56 AM | $1,775.00 | i14526 |
| Jan 21, 2023 - 10:17:56 AM | $1,750.00 | i8718 |
| Jan 21, 2023 - 10:17:35 AM | $1,575.00 | i8718 |
| Jan 21, 2023 - 10:17:35 AM | $1,550.00 | i14526 |
| Jan 20, 2023 - 3:06:54 PM | $1,525.00 | i8718 |
| Jan 20, 2023 - 3:06:34 PM | $1,500.00 | i14093 |
| Jan 20, 2023 - 3:06:35 PM | $1,500.00 | i8718 |
| Jan 20, 2023 - 3:06:12 PM | $1,280.00 | i14093 |
| Jan 20, 2023 - 3:06:12 PM | $1,255.00 | i8718 |
| Jan 20, 2023 - 1:25:01 PM | $1,230.00 | i14093 |
| Jan 20, 2023 - 1:25:01 PM | $1,205.00 | i16086 |
| Jan 20, 2023 - 12:46:26 AM | $1,050.00 | i16086 |
| Jan 19, 2023 - 11:44:45 PM | $1,025.00 | i9532 |
| Jan 19, 2023 - 11:44:32 PM | $1,000.00 | i8718 |
| Jan 19, 2023 - 11:44:33 PM | $1,000.00 | i9532 |
| Jan 19, 2023 - 11:44:18 PM | $625.00 | i8718 |
| Jan 19, 2023 - 11:44:18 PM | $600.00 | i9532 |
| Jan 19, 2023 - 11:44:08 PM | $575.00 | i8718 |
| Jan 19, 2023 - 11:44:08 PM | $550.00 | i9532 |
| Jan 19, 2023 - 12:52:43 PM | $525.00 | i8718 |
| Jan 19, 2023 - 12:52:20 PM | $500.00 | i13601 |
| Jan 19, 2023 - 12:52:21 PM | $500.00 | i8718 |
| Jan 19, 2023 - 12:51:54 PM | $329.00 | i13601 |
| Jan 19, 2023 - 12:51:54 PM | $319.00 | i8718 |
| Jan 19, 2023 - 11:34:54 AM | $309.00 | i13601 |
| Jan 19, 2023 - 11:34:54 AM | $299.00 | i14093 |
| Jan 19, 2023 - 11:33:59 AM | $210.00 | i14093 |
| Jan 19, 2023 - 11:33:59 AM | $200.00 | i13601 |
| Jan 19, 2023 - 11:18:19 AM | $17.50 | i14093 |
| Jan 19, 2023 - 9:13:09 AM | $15.00 | i10841 |
| Jan 18, 2023 - 8:17:11 PM | $12.50 | i15932 |
| Jan 18, 2023 - 7:48:48 PM | $10.00 | i15528 |
| Jan 18, 2023 - 7:48:48 PM | $7.50 | i3399 |
| Jan 18, 2023 - 3:43:58 PM | $5.00 | i15528 |