Exclusive Luxury High End Clothing and Accessory Estate Sale and Auction (193)
All items closed
IN-GALLERY MARKET SALE: EVERY Thursday from 10:00 am to 3:00 pm @ 100 Clover Green, Peachtree City, GA 30269 (Gleaton's Gallery) 
GALLERY PICK UP: MONDAY 27, 11:00 am - 5:45 pm  at 100 Clover Green, Peachtree City, GA 30269 *Pick Up by Appointment - link sent with invoice.
This is an Online Auction presented by Gleaton's. Gleaton's is the best auction company and highest rated online auction marketplace in Metro Atlanta area. Gleaton's is the go to company for Estate Sales in Atlanta GA area, Business Liquidations in Metro Atlanta and Georgia Region & Real Estate Auctions and Listings. 
« Back to list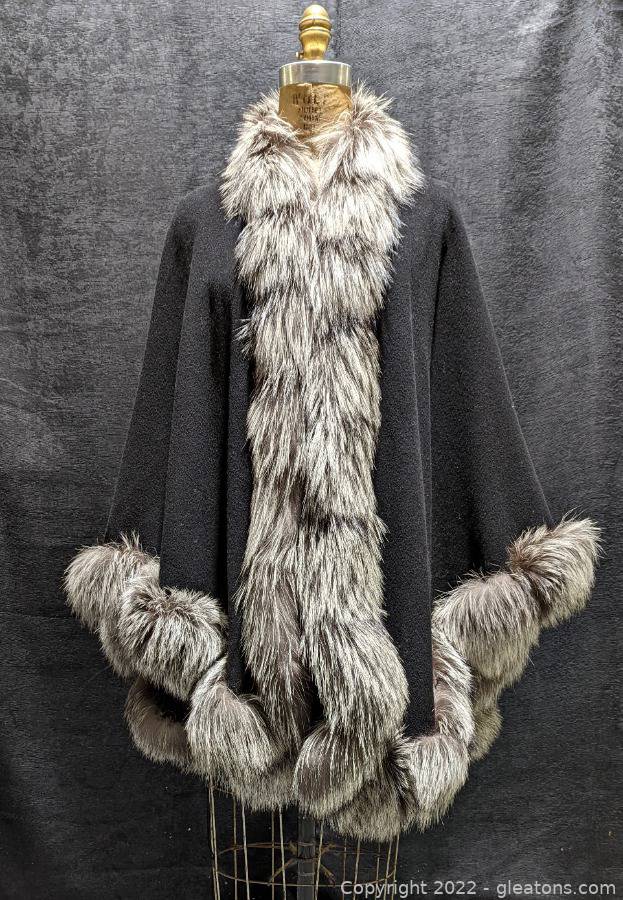 Lot #1600:
Custom Fox Fur Trimmed Black Cape
Sold
Bidding is

closed

.
High Bid:
$1,500.00
NA
Bidding Ended:
Sat, Jun 25 8:37:17 pm ET
High Bidder:
13822
Bid Increment:
$25.00
Starting Bid:
$5.00
Item Location:

100 Clover Green

,

Peachtree City

,

GA

30269

Item has been viewed 411 times.

Lovely soft fur. In great condition.
Comfortably fits Med.-Large.
| | | |
| --- | --- | --- |
| Bid Date | Bid Amount | Bidder |
| Jun 25, 2022 - 8:36:31 PM | $1,500.00 | i13822 |
| Jun 25, 2022 - 8:36:31 PM | $1,200.00 | i14773 |
| Jun 25, 2022 - 8:36:17 PM | $1,050.00 | i14773 |
| Jun 25, 2022 - 8:36:17 PM | $1,025.00 | i13822 |
| Jun 25, 2022 - 8:35:20 PM | $1,000.00 | i14773 |
| Jun 25, 2022 - 8:35:20 PM | $975.00 | i13822 |
| Jun 25, 2022 - 8:34:21 PM | $950.00 | i14773 |
| Jun 25, 2022 - 8:33:59 PM | $925.00 | i13822 |
| Jun 25, 2022 - 8:33:48 PM | $900.00 | i14773 |
| Jun 25, 2022 - 8:33:48 PM | $875.00 | i13822 |
| Jun 25, 2022 - 8:32:50 PM | $850.00 | i14773 |
| Jun 25, 2022 - 8:32:50 PM | $825.00 | i14744 |
| Jun 25, 2022 - 8:32:18 PM | $800.00 | i14773 |
| Jun 25, 2022 - 8:31:55 PM | $775.00 | i13822 |
| Jun 25, 2022 - 8:31:46 PM | $750.00 | i14773 |
| Jun 25, 2022 - 8:31:47 PM | $750.00 | i13822 |
| Jun 25, 2022 - 8:31:26 PM | $725.00 | i14773 |
| Jun 25, 2022 - 8:31:26 PM | $700.00 | i13822 |
| Jun 25, 2022 - 8:31:05 PM | $625.00 | i14773 |
| Jun 25, 2022 - 8:31:05 PM | $600.00 | i13822 |
| Jun 25, 2022 - 8:30:45 PM | $525.00 | i14773 |
| Jun 25, 2022 - 8:30:45 PM | $500.00 | i13822 |
| Jun 25, 2022 - 8:30:29 PM | $480.00 | i14773 |
| Jun 25, 2022 - 8:30:30 PM | $470.00 | i13822 |
| Jun 25, 2022 - 8:30:07 PM | $460.00 | i14773 |
| Jun 25, 2022 - 8:30:07 PM | $450.00 | i13822 |
| Jun 25, 2022 - 8:29:46 PM | $410.00 | i14773 |
| Jun 25, 2022 - 8:29:46 PM | $400.00 | i13822 |
| Jun 25, 2022 - 8:29:24 PM | $360.00 | i14773 |
| Jun 25, 2022 - 8:29:24 PM | $350.00 | i13822 |
| Jun 25, 2022 - 8:29:14 PM | $340.00 | i14773 |
| Jun 25, 2022 - 8:29:14 PM | $330.00 | i14715 |
| Jun 25, 2022 - 8:28:51 PM | $320.00 | i14773 |
| Jun 25, 2022 - 8:28:51 PM | $310.00 | i13822 |
| Jun 25, 2022 - 8:28:37 PM | $290.00 | i13822 |
| Jun 25, 2022 - 8:28:04 PM | $280.00 | i14744 |
| Jun 25, 2022 - 8:26:14 PM | $270.00 | i14715 |
| Jun 25, 2022 - 7:34:37 PM | $260.00 | i14744 |
| Jun 25, 2022 - 6:38:31 PM | $250.00 | i6986 |
| Jun 25, 2022 - 6:38:31 PM | $240.00 | i13822 |
| Jun 25, 2022 - 6:26:17 PM | $220.00 | i13822 |
| Jun 25, 2022 - 6:10:38 PM | $210.00 | i14744 |
| Jun 25, 2022 - 6:10:03 PM | $200.00 | i13822 |
| Jun 25, 2022 - 6:10:03 PM | $190.00 | i14744 |
| Jun 25, 2022 - 5:41:19 PM | $180.00 | i13822 |
| Jun 25, 2022 - 12:54:51 PM | $170.00 | i14715 |
| Jun 25, 2022 - 12:54:51 PM | $161.00 | i13822 |
| Jun 25, 2022 - 7:39:54 AM | $160.00 | i13822 |
| Jun 24, 2022 - 10:42:24 PM | $150.00 | i14715 |
| Jun 24, 2022 - 10:42:24 PM | $141.00 | i13822 |
| Jun 24, 2022 - 11:22:46 AM | $140.00 | i13822 |
| Jun 23, 2022 - 11:19:17 PM | $130.00 | i14715 |
| Jun 23, 2022 - 4:32:04 PM | $120.00 | i13822 |
| Jun 23, 2022 - 4:32:05 PM | $120.00 | i14715 |
| Jun 19, 2022 - 6:29:03 PM | $110.00 | i13822 |
| Jun 19, 2022 - 6:29:03 PM | $100.00 | i8622 |
| Jun 19, 2022 - 6:28:52 PM | $95.00 | i13822 |
| Jun 19, 2022 - 6:28:52 PM | $90.00 | i8622 |
| Jun 19, 2022 - 6:28:39 PM | $85.00 | i13822 |
| Jun 19, 2022 - 6:28:39 PM | $80.00 | i8622 |
| Jun 19, 2022 - 6:28:27 PM | $75.00 | i13822 |
| Jun 19, 2022 - 6:28:27 PM | $70.00 | i8622 |
| Jun 19, 2022 - 6:28:12 PM | $65.00 | i13822 |
| Jun 19, 2022 - 6:28:12 PM | $60.00 | i8622 |
| Jun 18, 2022 - 7:14:04 PM | $55.00 | i13822 |
| Jun 18, 2022 - 7:14:04 PM | $50.00 | i10786 |
| Jun 17, 2022 - 7:59:18 PM | $20.00 | i10786 |
| Jun 17, 2022 - 7:59:18 PM | $17.50 | i5172 |
| Jun 17, 2022 - 3:32:18 AM | $15.00 | i10786 |
| Jun 16, 2022 - 7:55:17 PM | $12.50 | i14213 |
| Jun 16, 2022 - 4:59:01 PM | $10.00 | i8813 |
| Jun 16, 2022 - 2:38:36 PM | $7.50 | i4125 |
| Jun 16, 2022 - 12:28:57 PM | $5.00 | i13227 |