Upscale Peachtree City Estate Downsizing Online Only Auction (241)
All items closed
This is an Online Auction presented by Gleaton's. Gleaton's is the best auction company and highest rated online auction marketplace in Metro Atlanta area. Gleaton's is the go to company for Estate Sales in Atlanta GA area, Business Liquidations in Metro Atlanta and Georgia Region & Real Estate Auctions and Listings. 
PICK UP:  MONDAY, 23, 2022 from 11:00 am - 5:45 pm @ 259 Turnbridge Circle Peachtree City, GA 30269
« Back to list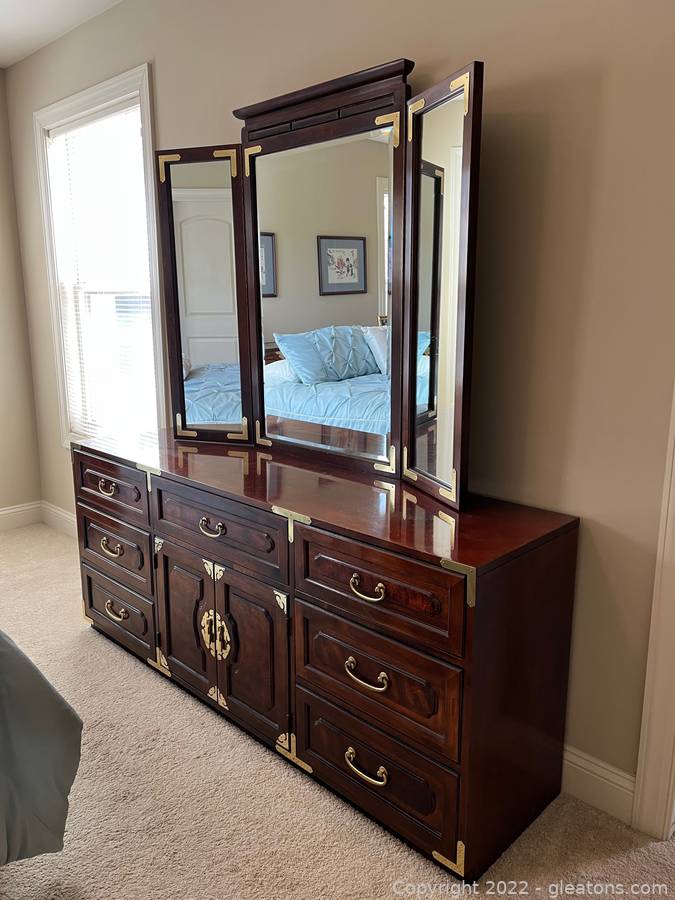 Lot #6300:
Mid Century Bernhardt Dresser with Mirror

gold tone hardware, slight scratches
upstairs! heavy! bring help to move!
approx with mirror-74" h, 70" w, 18" d
| | | |
| --- | --- | --- |
| Bid Date | Bid Amount | Bidder |
| May 22, 2022 - 8:26:13 PM | $430.00 | i13657 |
| May 22, 2022 - 8:26:13 PM | $420.00 | i9987 |
| May 22, 2022 - 8:25:18 PM | $410.00 | i13657 |
| May 22, 2022 - 8:25:18 PM | $400.00 | i9987 |
| May 22, 2022 - 8:24:24 PM | $390.00 | i13657 |
| May 22, 2022 - 8:24:24 PM | $380.00 | i9987 |
| May 22, 2022 - 8:23:40 PM | $370.00 | i13657 |
| May 22, 2022 - 8:23:40 PM | $360.00 | i9987 |
| May 22, 2022 - 8:23:03 PM | $350.00 | i13657 |
| May 22, 2022 - 8:23:03 PM | $345.00 | i9987 |
| May 22, 2022 - 8:22:41 PM | $335.00 | i13657 |
| May 22, 2022 - 8:22:41 PM | $325.00 | i9987 |
| May 22, 2022 - 8:21:56 PM | $315.00 | i13657 |
| May 22, 2022 - 8:21:46 PM | $305.00 | i9987 |
| May 22, 2022 - 8:21:46 PM | $300.00 | i13657 |
| May 22, 2022 - 8:21:36 PM | $295.00 | i13657 |
| May 22, 2022 - 8:21:36 PM | $285.00 | i9987 |
| May 22, 2022 - 8:21:19 PM | $275.00 | i13657 |
| May 22, 2022 - 8:21:19 PM | $270.00 | i9987 |
| May 22, 2022 - 8:21:04 PM | $260.00 | i13657 |
| May 22, 2022 - 8:21:04 PM | $250.00 | i9987 |
| May 22, 2022 - 8:20:19 PM | $240.00 | i13657 |
| May 22, 2022 - 8:20:19 PM | $230.00 | i9987 |
| May 22, 2022 - 8:18:42 PM | $220.00 | i13657 |
| May 22, 2022 - 8:18:42 PM | $210.00 | i9987 |
| May 22, 2022 - 8:18:28 PM | $200.00 | i13657 |
| May 22, 2022 - 8:18:29 PM | $200.00 | i9987 |
| May 22, 2022 - 8:18:07 PM | $190.00 | i13657 |
| May 22, 2022 - 8:18:07 PM | $180.00 | i9987 |
| May 22, 2022 - 8:14:57 PM | $170.00 | i13657 |
| May 22, 2022 - 8:14:46 PM | $160.00 | i9987 |
| May 22, 2022 - 8:13:17 PM | $150.00 | i13657 |
| May 22, 2022 - 8:13:17 PM | $140.00 | i9987 |
| May 22, 2022 - 8:06:15 PM | $130.00 | i13657 |
| May 22, 2022 - 8:06:15 PM | $120.00 | i9987 |
| May 22, 2022 - 6:15:02 PM | $110.00 | i13657 |
| May 22, 2022 - 6:14:58 PM | $100.00 | i14370 |
| May 22, 2022 - 6:14:59 PM | $100.00 | i13657 |
| May 22, 2022 - 6:14:52 PM | $95.00 | i14370 |
| May 22, 2022 - 6:14:52 PM | $90.00 | i13657 |
| May 22, 2022 - 6:14:44 PM | $85.00 | i14370 |
| May 22, 2022 - 6:14:44 PM | $80.00 | i13657 |
| May 17, 2022 - 12:09:40 PM | $75.00 | i14370 |
| May 17, 2022 - 12:09:40 PM | $70.00 | i11630 |
| May 17, 2022 - 12:09:32 PM | $65.00 | i14370 |
| May 17, 2022 - 12:09:32 PM | $60.00 | i11630 |
| May 17, 2022 - 12:09:16 PM | $55.00 | i14370 |
| May 17, 2022 - 12:09:16 PM | $50.00 | i11630 |
| May 17, 2022 - 12:09:02 PM | $43.00 | i14370 |
| May 17, 2022 - 12:09:02 PM | $38.00 | i11630 |
| May 17, 2022 - 12:08:30 PM | $30.00 | i14370 |
| May 17, 2022 - 12:08:30 PM | $25.00 | i11630 |
| May 17, 2022 - 9:28:00 AM | $20.00 | i14370 |
| May 17, 2022 - 9:28:00 AM | $17.50 | i9987 |
| May 16, 2022 - 9:43:18 PM | $10.50 | i9987 |
| May 16, 2022 - 9:43:18 PM | $8.00 | i11630 |
| May 16, 2022 - 9:10:41 AM | $7.50 | i11630 |
| May 14, 2022 - 11:46:28 AM | $5.00 | i9987 |