2001 Monte Carlo SS Coupe
All items closed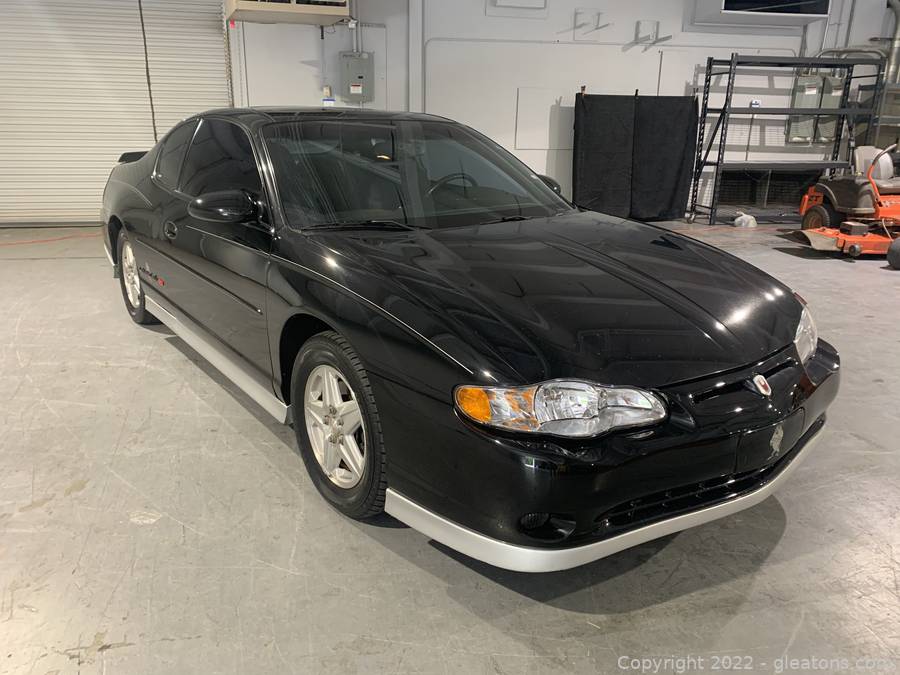 2001 Monte Carlo SS Coupe
Bidding is

closed

.
High Bid:
$4,250.00
NA
Bidding Ended:
Sun, May 15 6:30:58 pm ET
High Bidder:
6119
Bid Increment:
$50.00
Starting Bid:
$5.00
Item Location:

100 Clover Green

,

Peachtree City

,

GA

30269

Item has been viewed 784 times.

OR BEST OFFER

BUY & BID WITH CONFIDENCE! This Vehicle comes with a Gleaton's Guarantee. See attached document or at the end of description for details on the Gleaton's Guarantee.
Schedule a test drive
It's simple, just pick the date and time that best suits you.
Tuesday - Friday -  at 100 Clover Green, Peachtree City, GA 30269 (Gleaton's Auction Gallery) 
CLICK HERE TO SCHEDULE YOUR TEST DRIVE
** Buy Now Price $12,995.00          
This 2001 Chevrolet Monte Carlo SS Coupe has been inspected by J & M Napa Auto Care (ASE Certified Mechanic) in Fayetteville, GA and comes with the Gleaton's Guarantee
PAY BY: cashiers check, cash, money order or personal check - (check has to clear to receive vehicle) 
 VIN# 2G1WX15K919282127
Mileage: 182,746
Exterior: Black Interior: Black
Unique 16" Aluminum Wheels
Spoiler

Crack in w/s
Power door mirrors
Fully automatic headlights
Front fog lights
Dual Power Outside Heated Mirrors
Bumpers: body-color
Bodyside moldings
Alloy wheels
16" Sport Aluminum Wheels
Voltmeter
Variably intermittent wipers
Trip Computer
Tilt steering wheel
Tachometer
Steering wheel mounted audio controls
Sport Cloth Seat Trim
Split folding rear seat
Rear window defroster
Rear seat center armrest
Power windows
Passenger vanity mirror
Passenger door bin
Overhead console
Luggage Area Cargo Net
Leather steering wheel
LH & RH Illuminated Visor Vanity Mirrors
Front reading lights
Front dual zone A/C
Front Sport Bucket Seats
Front Center Armrest
Front Bucket Seats
Electrochromic Inside Rear-View Mirror
Driver/Front Passenger Temperature Controls
Driver vanity mirror
Driver door bin
Driver & Front Passenger Heated Seats
Auto-dimming Rear-View mirror
Air Conditioning
6-Way Power Passenger Seat
6-Way Power Driver Seat
Traction control
Panic alarm
Low tire pressure warning
Dual front impact airbags
Anti-Theft Alarm System
ABS brakes
Power steering
Four wheel independent suspension
4-Wheel Disc Brakes
speed control
Remote keyless entry
Remote Keyless Entry
Radio data system
OnStar Safety and Security System
HomeLink Programmable Garage Door Opener
Electronic Cruise Control w/Resume Speed
Cassette
AM/FM radio
4 Speakers
Gleaton's Guarantee (GG) – "Bid & Buy with Confidence"
Gleaton's Guarantee states that vehicles are covered for five days including non-business days, 120 hours to the minute or 400 miles, whichever comes first, after the vehicle is marked sold on www.Gleatons.com  for the following mechanical issues below - Only vehicles ten calendar years old or newer and are under 135,000 odometer miles qualify for Gleaton's Guarantee.
Gleaton's Guarantee:
Deliver a vehicle with a clean title.
Provide a Georgia Bill of Sale of Automobile As-Is Sale
Required Odometer Disclosure Statement
Mechanical Guarantee
Head Gasket Failure
Camshaft Failure
Transmission Failure
Critical Engine Cylinder Failure
Return vehicle discrepancies from the above mechanical issues must be verified by:
Napa ASE Certified Master Auto Technician from J & M Auto Service at 442 Glynn St. S Fayetteville, GA 30214.
Vehicle must have one of the four specific issues verified from J & M Auto to be refund applicable.
After verification from J & M Auto, Gleaton's will refund the complete purchase price of the vehicle.
Vehicles must be in the same physical condition as when purchased and pre inspected by J & M Auto Services prior to refund.
Vehicle return disqualifications:  
Modifications or tampering with the engine or transmission will result in immediate return disqualification and are subject to fines
Returned vehicles must be in the same condition or better as time of sale
All buyers are responsible for returning vehicles in no less condition than when purchased
Vehicle In an any accident or is damaged interior or exterior
Altered from any condition upon the time of possession
Put on a security as a loan, also known as an encumbrance
Gleaton' Inc. will not be responsible for administrative errors, such as incorrect mileage on Bill of Sales or be responsible for implied, verbal or written warranties.
This vehicle has NO ISSUES and is in Excellent Condition. Clean! 
| | | |
| --- | --- | --- |
| Bid Date | Bid Amount | Bidder |
| May 15, 2022 - 6:29:58 PM | $4,250.00 | i6119 |
| May 15, 2022 - 6:28:49 PM | $4,200.00 | i12915 |
| May 15, 2022 - 6:28:49 PM | $4,155.00 | i6119 |
| May 15, 2022 - 6:23:17 PM | $4,150.00 | i6119 |
| May 15, 2022 - 6:22:13 PM | $4,100.00 | i10634 |
| May 15, 2022 - 6:22:13 PM | $4,056.00 | i9152 |
| May 15, 2022 - 6:20:19 PM | $4,005.00 | i9152 |
| May 15, 2022 - 6:20:19 PM | $4,000.00 | i6119 |
| May 15, 2022 - 6:16:06 PM | $3,900.00 | i9152 |
| May 15, 2022 - 6:16:06 PM | $3,850.00 | i6119 |
| May 15, 2022 - 6:11:31 PM | $3,750.00 | i9152 |
| May 15, 2022 - 6:11:31 PM | $3,700.00 | i10634 |
| May 15, 2022 - 6:11:00 PM | $3,650.00 | i10634 |
| May 15, 2022 - 6:11:00 PM | $3,600.00 | i9152 |
| May 15, 2022 - 6:06:36 PM | $3,550.00 | i9152 |
| May 15, 2022 - 5:49:50 PM | $3,500.00 | i6119 |
| May 15, 2022 - 5:48:15 PM | $3,450.00 | i8725 |
| May 15, 2022 - 5:47:17 PM | $3,400.00 | i10634 |
| May 15, 2022 - 5:47:18 PM | $3,400.00 | i8725 |
| May 15, 2022 - 5:46:16 PM | $3,350.00 | i10634 |
| May 15, 2022 - 5:46:16 PM | $3,300.00 | i8725 |
| May 15, 2022 - 5:46:09 PM | $3,250.00 | i10634 |
| May 15, 2022 - 5:46:09 PM | $3,200.00 | i8725 |
| May 15, 2022 - 5:45:59 PM | $3,150.00 | i10634 |
| May 15, 2022 - 5:45:59 PM | $3,100.00 | i8725 |
| May 15, 2022 - 5:45:07 PM | $3,050.00 | i10634 |
| May 15, 2022 - 5:42:50 PM | $3,000.00 | i8725 |
| May 15, 2022 - 5:42:51 PM | $3,000.00 | i10634 |
| May 15, 2022 - 5:40:21 PM | $2,600.00 | i8725 |
| May 15, 2022 - 5:40:21 PM | $2,550.00 | i14358 |
| May 15, 2022 - 2:42:57 PM | $2,500.00 | i8725 |
| May 15, 2022 - 2:42:58 PM | $2,500.00 | i12915 |
| May 14, 2022 - 7:18:56 PM | $2,450.00 | i8725 |
| May 14, 2022 - 7:18:56 PM | $2,400.00 | i12915 |
| May 14, 2022 - 9:36:46 AM | $2,350.00 | i8725 |
| May 14, 2022 - 9:36:46 AM | $2,300.00 | i13246 |
| May 11, 2022 - 12:18:57 PM | $2,250.00 | i8725 |
| May 11, 2022 - 12:18:57 PM | $2,200.00 | i9823 |
| May 11, 2022 - 6:16:18 AM | $2,150.00 | i8725 |
| May 11, 2022 - 6:16:18 AM | $2,100.00 | i9726 |
| May 7, 2022 - 6:56:47 PM | $2,050.00 | i9726 |
| May 7, 2022 - 1:41:09 PM | $2,000.00 | i13246 |
| May 7, 2022 - 1:41:10 PM | $2,000.00 | i8725 |
| May 7, 2022 - 1:40:44 PM | $1,750.00 | i13246 |
| May 7, 2022 - 1:40:45 PM | $1,700.00 | i8725 |
| May 6, 2022 - 1:31:26 PM | $1,650.00 | i13246 |
| May 6, 2022 - 1:31:26 PM | $1,600.00 | i1563 |
| May 6, 2022 - 1:31:18 PM | $1,550.00 | i13246 |
| May 6, 2022 - 1:31:18 PM | $1,500.00 | i1563 |
| May 6, 2022 - 1:31:11 PM | $1,450.00 | i13246 |
| May 6, 2022 - 1:31:11 PM | $1,400.00 | i1563 |
| May 6, 2022 - 1:31:06 PM | $1,350.00 | i13246 |
| May 6, 2022 - 1:31:06 PM | $1,300.00 | i1563 |
| May 6, 2022 - 1:03:05 PM | $1,250.00 | i13246 |
| May 6, 2022 - 1:03:05 PM | $1,200.00 | i9726 |
| May 6, 2022 - 1:02:58 PM | $1,025.00 | i9726 |
| May 6, 2022 - 1:02:58 PM | $1,000.00 | i13246 |
| May 6, 2022 - 12:00:05 PM | $510.00 | i9726 |
| May 6, 2022 - 12:00:05 PM | $500.00 | i10841 |
| May 6, 2022 - 11:21:24 AM | $260.00 | i10841 |
| May 6, 2022 - 11:21:24 AM | $250.00 | i6423 |
| May 6, 2022 - 11:21:14 AM | $35.00 | i6423 |
| May 6, 2022 - 11:21:14 AM | $30.00 | i10841 |
| May 6, 2022 - 1:30:12 AM | $10.00 | i6423 |
| May 5, 2022 - 7:56:16 PM | $5.00 | i12915 |