Exquisite Lifetime Hummel Collection Estate Sale and Auction (454)
All items closed
IN-GALLERY MARKET SALE: EVERY Thursday from 10:00 am to 3:00 pm at 100 Clover Green, Peachtree City, GA 30269 (Gleaton's Gallery)
GALLERY PICK UP: Monday, May 16th, 11:00 am - 5:45 pm at 100 Clover Green, Peachtree City, GA 30269 *Pick Up by Appointment - link sent with invoice.
This is an Online Auction presented by Gleaton's. Gleaton's is the best auction company and highest rated online auction marketplace in Metro Atlanta area. Gleaton's is the go to company for Estate Sales in Atlanta GA area, Business Liquidations in Metro Atlanta and Georgia Region & Real Estate Auctions and Listings.
« Back to list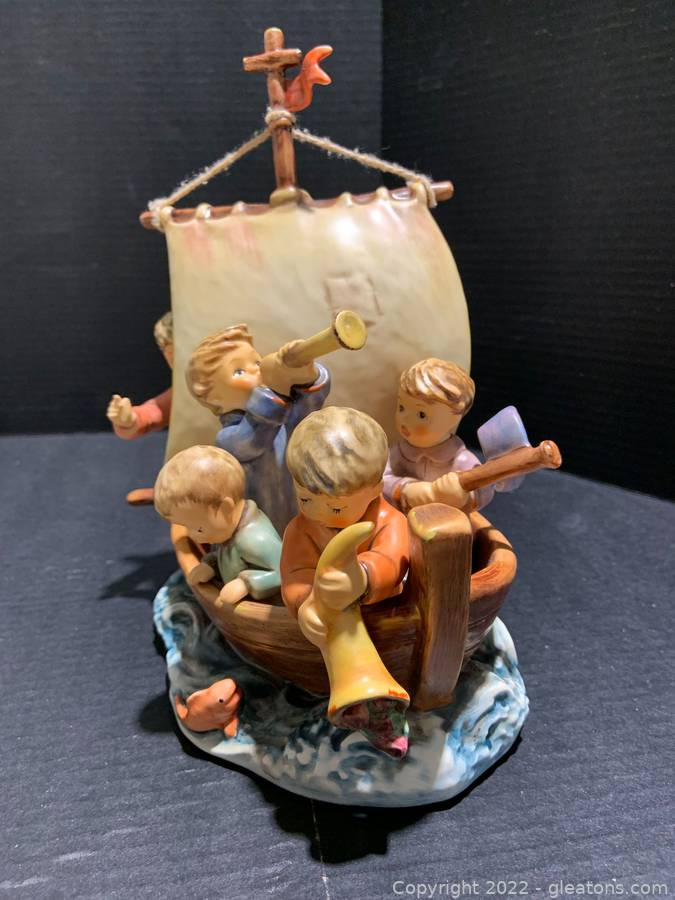 Lot #3556:
Limited Edition Hummel Figurine "Land in Sight" No.530
Bidding is

closed

.
High Bid:
$362.00
NA
Bidding Ended:
Sat, May 14 8:15:07 pm ET
High Bidder:
14345
Bid Increment:
$10.00
Starting Bid:
$5.00
Item Location:

100 Clover Green

,

Peachtree City

,

GA

30269

Item has been viewed 110 times.

9" includes box     
number 12738 of 30000
| | | |
| --- | --- | --- |
| Bid Date | Bid Amount | Bidder |
| May 14, 2022 - 8:14:07 PM | $362.00 | i14345 |
| May 14, 2022 - 8:14:07 PM | $352.00 | i10499 |
| May 14, 2022 - 8:13:55 PM | $310.00 | i10499 |
| May 14, 2022 - 8:12:57 PM | $300.00 | i14345 |
| May 14, 2022 - 8:12:58 PM | $300.00 | i9726 |
| May 14, 2022 - 8:12:21 PM | $270.00 | i14345 |
| May 14, 2022 - 8:12:21 PM | $260.00 | i9726 |
| May 14, 2022 - 8:07:41 PM | $235.00 | i14345 |
| May 14, 2022 - 8:07:41 PM | $225.00 | i10499 |
| May 10, 2022 - 10:32:04 AM | $220.00 | i10499 |
| May 8, 2022 - 1:28:11 PM | $210.00 | i9726 |
| May 8, 2022 - 1:28:05 PM | $200.00 | i13834 |
| May 8, 2022 - 1:28:06 PM | $200.00 | i9726 |
| May 8, 2022 - 1:27:56 PM | $190.00 | i13834 |
| May 8, 2022 - 1:27:56 PM | $180.00 | i9726 |
| May 6, 2022 - 3:41:47 PM | $170.00 | i13834 |
| May 6, 2022 - 6:26:46 AM | $160.00 | i9726 |
| May 5, 2022 - 6:30:11 PM | $150.00 | i13834 |
| May 5, 2022 - 6:30:11 PM | $145.00 | i9726 |
| May 5, 2022 - 4:48:31 PM | $135.00 | i13834 |
| May 5, 2022 - 4:48:31 PM | $125.00 | i296 |
| May 5, 2022 - 2:19:09 PM | $100.00 | i13834 |
| May 5, 2022 - 2:19:10 PM | $100.00 | i296 |
| May 5, 2022 - 2:17:59 PM | $55.00 | i13834 |
| May 5, 2022 - 2:17:59 PM | $50.00 | i296 |
| May 5, 2022 - 2:17:47 PM | $45.00 | i13834 |
| May 5, 2022 - 2:17:47 PM | $40.00 | i296 |
| May 5, 2022 - 2:17:44 PM | $35.00 | i13834 |
| May 5, 2022 - 2:17:44 PM | $30.00 | i296 |
| May 5, 2022 - 2:17:40 PM | $25.00 | i13834 |
| May 5, 2022 - 2:17:40 PM | $20.00 | i296 |
| May 5, 2022 - 2:17:37 PM | $17.50 | i13834 |
| May 5, 2022 - 2:17:37 PM | $15.00 | i296 |
| May 5, 2022 - 2:17:34 PM | $12.50 | i13834 |
| May 5, 2022 - 2:17:34 PM | $10.00 | i296 |
| May 5, 2022 - 1:54:13 PM | $7.50 | i13834 |
| May 5, 2022 - 10:39:43 AM | $5.00 | i9726 |