CLEAN 2007 Toyota 4Runner 4WD 4 Door V6 SR5 Sport
Bidding Now! -
ends Fri, Jan 21 at 01:00:00 pm
Tuesday - Friday IN-GALLERY TEST DRIVE:   from 10:00 am to 4:00 pm at 100 Clover Green, Peachtree City, GA 30269 (Gleaton's Gallery) 
GALLERY PICK UP:  at 100 Clover Green, Peachtree City, GA 30269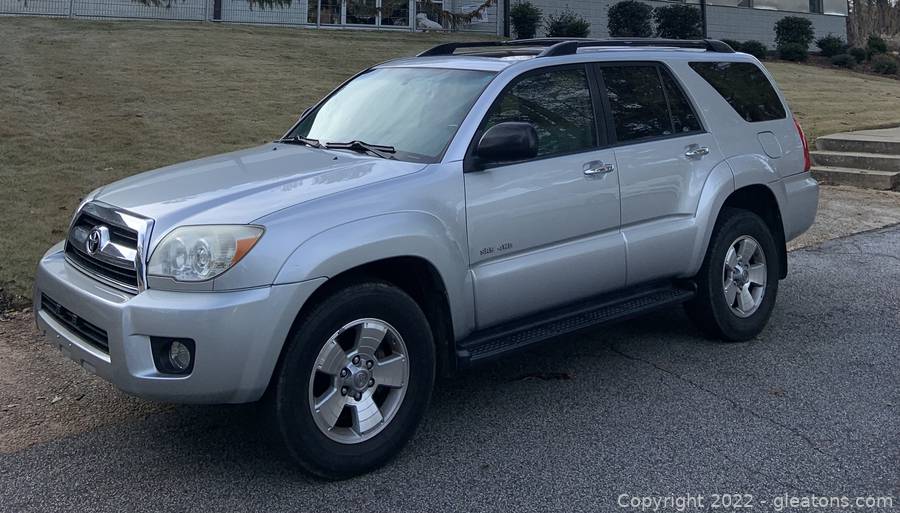 CLEAN 2007 Toyota 4Runner 4WD 4 Door V6 SR5 Sport
Current Bid
$4,725.00
NA
Time Remaining:
2 days, 6 hours, 37 minutes
Extended Bidding:
i
Bidding Ends:
Fri, Jan 21 1:00:00 pm ET
High Bidder:
12927
Bid Increment:
$25.00
Starting Bid:
$5.00
Item Location:

100 Clover Green

,

Peachtree City

,

GA

30269

Item has been viewed 919 times.

OR BEST OFFER

VIN JTEBU14RX70111141
241,853 Miles
VERY CLEAN
** $10,900 Buy Now Price pays ZERO dollars in buyers premium. No buyers premium for buy now price otherwise winning bid pays the buyers premium. 
** Inspected by Peachtree Imports Specialist, Mechanics shop in Peachtree City, GA. No issues reported and is running, driving fine. Driven & Tested for 20 miles. 
Engine Type Gas
Transmission 5-speed automatic
Drive Type Four wheel drive
Cylinders V6
Combined MPG 17 mpg
Total Seating 5
Basic Warranty 3 yr./ 36,000 mi.
Drivetrain
Drivetrain
Automatic Locking Hubs
Descent Control
Electronic Hi-Lo Gear Selection
Mechanical Center Differential
On Demand 4WD
Transmission Hill Holder
Center Limited Slip Differential
Center Locking Differential
Drive Type Four wheel drive
Transmission 5-speed automatic

Fuel & MPG:

Combined MPG 17 mpg
EPA Mileage Est. (Cty/Hwy) 16/20 mpg
Fuel Tank Capacity 23.0 gal.
Fuel Type Regular unleaded
Range In Miles (Cty/Hwy) 368.0/460.0 mi.

Engine:

Base Engine Size 4.0 L
Base Engine Type Gas
Cam Type Double overhead cam (dohc)
Cylinders V6
Horsepower 236 hp @ 5,200 rpm
Torque 266 lb-ft @ 4,000 rpm
Valve Timing Variable
Valves 24
Towing & Hauling
Towing & Hauling
Max Towing Capacity 5,000 lbs.

Safety:
2 Front Headrests
3 Rear Headrests
Child Seat Anchors
Electronic Brakeforce Distribution
Engine Immobilizer
Front And Rear Seatbelt Pretensioners
Front Fog/Driving Lights
Stability Control
Tire Pressure Monitoring
Traction Control
4-Wheel ABS
Emergency Braking Assist
Front And Rear Ventilated Disc Brakes
Passenger Airbag Occupant Sensing Deactivation
Rear Center 3-Point Belt
Rear Door Child Safety Locks
Rear Height Adjustable Headrests

In-Car Entertainment:

160-Watt Audio Output
6 Total Speakers
Auxiliary Audio Input
Diversity Antenna
AM/FM Stereo

Comfort & Convenience:
Cruise Control
Front And Rear Cupholders
Front And Rear Door Pockets
Front Seatback Storage
Overhead Console With Storage
Speed-Proportional Power Steering
Tilt And Telescopic Steering Wheel
12V Rear Power Outlet(S)
Audio And Cruise Controls On Steering Wheel
Cargo Area Light
Front And Rear Reading Lights
Interior Air Filtration
Leather Steering Wheel
Simulated Alloy Trim On Shift Knob
Dual Vanity Mirrors
Single Zone Front Climate Control

Power Features:

1 One-Touch Power Windows
Remote Keyless Power Door Locks
Remote Window Operation
Heated Mirrors
Power Mirrors
| | | |
| --- | --- | --- |
| Bid Date | Bid Amount | Bidder |
| Jan 18, 2022 - 8:37:04 PM | $4,725.00 | i12927 |
| Jan 18, 2022 - 8:37:04 PM | $4,700.00 | i10466 |
| Jan 18, 2022 - 8:36:12 PM | $4,575.00 | i10466 |
| Jan 18, 2022 - 8:36:12 PM | $4,550.00 | i12927 |
| Jan 17, 2022 - 9:48:25 PM | $4,500.00 | i10466 |
| Jan 17, 2022 - 9:48:26 PM | $4,500.00 | i7360 |
| Jan 17, 2022 - 9:46:30 PM | $4,375.00 | i10466 |
| Jan 17, 2022 - 9:46:30 PM | $4,350.00 | i7360 |
| Jan 17, 2022 - 9:46:01 PM | $4,225.00 | i10466 |
| Jan 17, 2022 - 9:46:01 PM | $4,200.00 | i7360 |
| Jan 17, 2022 - 1:14:06 PM | $4,075.00 | i10466 |
| Jan 17, 2022 - 1:14:06 PM | $4,050.00 | i10707 |
| Jan 17, 2022 - 11:33:09 AM | $4,025.00 | i10466 |
| Jan 17, 2022 - 11:32:41 AM | $4,000.00 | i10029 |
| Jan 17, 2022 - 11:32:42 AM | $4,000.00 | i10466 |
| Jan 17, 2022 - 11:32:08 AM | $3,525.00 | i10029 |
| Jan 17, 2022 - 11:32:08 AM | $3,500.00 | i10466 |
| Jan 17, 2022 - 11:31:53 AM | $3,125.00 | i10029 |
| Jan 17, 2022 - 11:31:53 AM | $3,100.00 | i10466 |
| Jan 16, 2022 - 7:10:33 PM | $3,075.00 | i10029 |
| Jan 16, 2022 - 7:10:33 PM | $3,050.00 | i1166 |
| Jan 16, 2022 - 6:07:31 PM | $3,025.00 | i10029 |
| Jan 16, 2022 - 6:07:11 PM | $3,000.00 | i9129 |
| Jan 16, 2022 - 6:07:12 PM | $3,000.00 | i10029 |
| Jan 16, 2022 - 6:06:58 PM | $2,900.00 | i9129 |
| Jan 16, 2022 - 6:06:58 PM | $2,875.00 | i10029 |
| Jan 16, 2022 - 6:06:50 PM | $2,850.00 | i9129 |
| Jan 16, 2022 - 6:06:50 PM | $2,825.00 | i10029 |
| Jan 16, 2022 - 6:06:40 PM | $2,800.00 | i9129 |
| Jan 16, 2022 - 6:06:40 PM | $2,775.00 | i10029 |
| Jan 16, 2022 - 6:01:25 PM | $2,750.00 | i9129 |
| Jan 16, 2022 - 6:01:25 PM | $2,725.00 | i9726 |
| Jan 16, 2022 - 6:01:19 PM | $2,700.00 | i9129 |
| Jan 16, 2022 - 6:01:19 PM | $2,675.00 | i9726 |
| Jan 16, 2022 - 6:01:10 PM | $2,650.00 | i9129 |
| Jan 16, 2022 - 6:01:10 PM | $2,625.00 | i9726 |
| Jan 16, 2022 - 6:01:03 PM | $2,600.00 | i9129 |
| Jan 16, 2022 - 6:01:03 PM | $2,575.00 | i9726 |
| Jan 16, 2022 - 6:00:57 PM | $2,550.00 | i9129 |
| Jan 16, 2022 - 6:00:57 PM | $2,525.00 | i9726 |
| Jan 16, 2022 - 6:00:51 PM | $2,500.00 | i9129 |
| Jan 16, 2022 - 6:00:51 PM | $2,475.00 | i9726 |
| Jan 16, 2022 - 6:00:44 PM | $2,450.00 | i9129 |
| Jan 16, 2022 - 6:00:44 PM | $2,425.00 | i9726 |
| Jan 16, 2022 - 5:45:53 PM | $2,400.00 | i9129 |
| Jan 16, 2022 - 5:45:53 PM | $2,375.00 | i10683 |
| Jan 16, 2022 - 5:41:44 PM | $2,350.00 | i9129 |
| Jan 16, 2022 - 5:34:54 PM | $2,325.00 | i10683 |
| Jan 15, 2022 - 8:30:56 PM | $2,300.00 | i9726 |
| Jan 15, 2022 - 8:30:57 PM | $2,300.00 | i7329 |
| Jan 15, 2022 - 7:23:56 PM | $2,275.00 | i9726 |
| Jan 15, 2022 - 7:23:56 PM | $2,250.00 | i10868 |
| Jan 14, 2022 - 5:32:27 PM | $2,225.00 | i9726 |
| Jan 14, 2022 - 5:24:18 PM | $2,200.00 | i5789 |
| Jan 14, 2022 - 5:24:19 PM | $2,200.00 | i9726 |
| Jan 14, 2022 - 4:41:37 PM | $2,125.00 | i5789 |
| Jan 14, 2022 - 4:41:37 PM | $2,100.00 | i9726 |
| Jan 14, 2022 - 4:32:18 PM | $2,034.99 | i9726 |
| Jan 14, 2022 - 2:29:37 PM | $2,009.99 | i5789 |
| Jan 14, 2022 - 2:29:37 PM | $2,000.00 | i8090 |
| Jan 14, 2022 - 2:29:15 PM | $1,983.63 | i8090 |
| Jan 14, 2022 - 2:29:15 PM | $1,958.63 | i5789 |
| Jan 14, 2022 - 2:28:42 PM | $1,894.69 | i8090 |
| Jan 14, 2022 - 2:28:42 PM | $1,869.69 | i5789 |
| Jan 14, 2022 - 2:28:26 PM | $1,835.39 | i8090 |
| Jan 14, 2022 - 2:28:26 PM | $1,810.39 | i5789 |
| Jan 14, 2022 - 2:27:52 PM | $1,780.00 | i8090 |
| Jan 14, 2022 - 2:27:52 PM | $1,755.00 | i5789 |
| Jan 14, 2022 - 12:27:43 PM | $1,725.00 | i8090 |
| Jan 14, 2022 - 12:27:30 PM | $1,700.00 | i1166 |
| Jan 14, 2022 - 12:27:31 PM | $1,700.00 | i8090 |
| Jan 14, 2022 - 12:27:24 PM | $1,675.00 | i1166 |
| Jan 14, 2022 - 12:27:24 PM | $1,650.00 | i8090 |
| Jan 14, 2022 - 12:16:23 PM | $1,625.00 | i1166 |
| Jan 14, 2022 - 12:14:46 PM | $1,600.00 | i9726 |
| Jan 14, 2022 - 12:14:47 PM | $1,600.00 | i9660 |
| Jan 13, 2022 - 10:50:32 PM | $1,575.00 | i9726 |
| Jan 13, 2022 - 10:50:32 PM | $1,550.00 | i40 |
| Jan 13, 2022 - 5:24:14 PM | $1,525.00 | i9726 |
| Jan 13, 2022 - 5:24:04 PM | $1,500.00 | i10071 |
| Jan 13, 2022 - 5:24:05 PM | $1,500.00 | i9726 |
| Jan 13, 2022 - 5:23:54 PM | $1,425.00 | i10071 |
| Jan 13, 2022 - 5:23:54 PM | $1,400.00 | i9726 |
| Jan 13, 2022 - 4:08:34 PM | $1,325.00 | i10071 |
| Jan 13, 2022 - 4:08:34 PM | $1,300.00 | i12085 |
| Jan 13, 2022 - 4:08:29 PM | $1,275.00 | i10071 |
| Jan 13, 2022 - 4:08:30 PM | $1,250.00 | i12085 |
| Jan 13, 2022 - 4:07:03 PM | $1,225.00 | i10071 |
| Jan 13, 2022 - 4:07:03 PM | $1,200.00 | i6234 |
| Jan 13, 2022 - 4:06:24 PM | $1,025.00 | i10071 |
| Jan 13, 2022 - 4:06:24 PM | $1,000.00 | i12085 |
| Jan 13, 2022 - 4:06:13 PM | $525.00 | i10071 |
| Jan 13, 2022 - 4:06:13 PM | $500.00 | i12085 |
| Jan 13, 2022 - 4:05:14 PM | $25.00 | i10071 |
| Jan 13, 2022 - 4:05:14 PM | $20.00 | i6234 |
| Jan 13, 2022 - 3:46:58 PM | $12.50 | i10071 |
| Jan 13, 2022 - 2:02:22 PM | $10.00 | i113 |
| Jan 13, 2022 - 1:40:01 PM | $7.50 | i1691 |
| Jan 13, 2022 - 12:40:18 PM | $5.00 | i3715 |