2006 PT Cruiser Base Only 70K Miles
Bidding Now! -
ends Fri, Jan 21 at 12:00:00 pm
Tuesday - Friday IN-GALLERY TEST DRIVE: from 10:00 am to 4:00 pm at 100 Clover Green, Peachtree City, GA 30269
(Gleaton's Gallery) 
GALLERY PICK UP:  at 100 Clover Green, Peachtree City, GA 30269 
Email lauren@gleatons.com  to schedule a time to pay for the vehicle and pick up  at 100 Clover Green, Peachtree City, GA 30269 
Bring Driver's License for Title Transfer  
Ad Valorem Tax for this vehicle is:  
We accept cash, Cashier's Check and credit cards.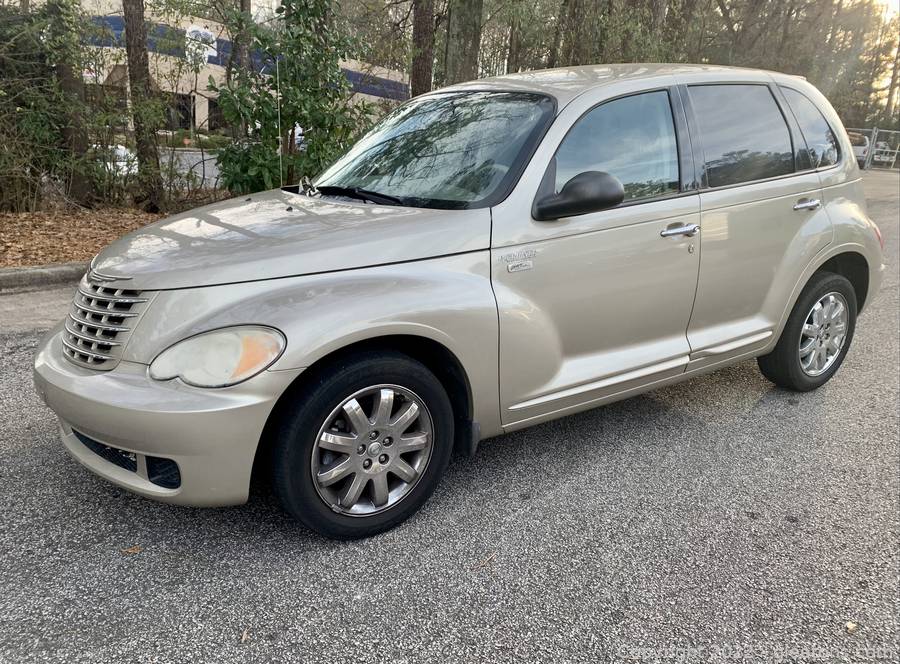 2006 Chrysler PT Cruiser Base ONLY 70K MILES
Current Bid
$2,825.00
NA
Time Remaining:
2 days, 5 hours, 49 minutes
Extended Bidding:
i
Bidding Ends:
Fri, Jan 21 12:00:00 pm ET
High Bidder:
7708
Bid Increment:
$25.00
Starting Bid:
$5.00
Item Location:

100 Clover Green

,

Peachtree City

,

GA

30269

Item has been viewed 647 times.

OR BEST OFFER

** $5900 Buy Now Price pays ZERO dollars in buyers premium. No buyers premium for buy now price otherwise winning bid pays the buyers premium. 
**Inspected by Peachtree Imports Specialist, Mechanics shop in Peachtree City, GA. No issues reported and is running, driving fine. Driven & Tested for 20 miles. 
Vin# 3A8FY58BX6T251165
2.4L 150HP
Mileage: 70,065
2 Front Headrests
2 Rear Headrests
Child Seat Anchors
Engine Immobilizer
Front Seatbelt Pretensioners
Passenger Airbag Occupant Sensing Deactivation
Rear Center 3-Point Belt
Rear Door Child Safety Locks
Rear Height Adjustable Headrests
Ventilated Front Disc / Rear Drum Brakes
6 Total Speakers
66 Watts Stereo Output
Auxiliary Audio Input
Mast Antenna
AM/FM CD-Controller Stereo
Front And Rear Door Pockets
Front Seatback Storage
Power Steering
Retained Accessory Power
Tilt-Adjustable Steering Wheel
Cargo Area Light
Dual Vanity Mirrors
2 One-Touch Power Windows
Remote Keyless Power Door Locks
Heated Mirrors
| | | |
| --- | --- | --- |
| Bid Date | Bid Amount | Bidder |
| Jan 18, 2022 - 7:04:44 PM | $2,825.00 | i7708 |
| Jan 17, 2022 - 3:57:00 PM | $2,800.00 | i11724 |
| Jan 17, 2022 - 3:57:01 PM | $2,800.00 | i7708 |
| Jan 17, 2022 - 3:56:32 PM | $2,725.00 | i11724 |
| Jan 17, 2022 - 3:56:32 PM | $2,700.00 | i7708 |
| Jan 17, 2022 - 3:56:12 PM | $2,675.00 | i11724 |
| Jan 17, 2022 - 3:56:12 PM | $2,650.00 | i7708 |
| Jan 17, 2022 - 2:14:51 PM | $2,625.00 | i11724 |
| Jan 17, 2022 - 2:14:51 PM | $2,600.00 | i7708 |
| Jan 17, 2022 - 10:48:55 AM | $2,575.00 | i7708 |
| Jan 17, 2022 - 9:21:55 AM | $2,550.00 | i165 |
| Jan 15, 2022 - 10:35:09 AM | $2,525.00 | i7708 |
| Jan 15, 2022 - 10:34:19 AM | $2,500.00 | i9660 |
| Jan 15, 2022 - 10:34:20 AM | $2,500.00 | i7708 |
| Jan 14, 2022 - 3:09:21 PM | $2,025.00 | i9660 |
| Jan 14, 2022 - 12:36:35 PM | $2,000.00 | i6986 |
| Jan 14, 2022 - 12:36:36 PM | $2,000.00 | i9823 |
| Jan 14, 2022 - 12:36:17 PM | $1,626.00 | i6986 |
| Jan 14, 2022 - 12:36:17 PM | $1,601.00 | i9823 |
| Jan 14, 2022 - 6:29:35 AM | $1,425.00 | i6986 |
| Jan 14, 2022 - 6:28:02 AM | $1,400.00 | i10071 |
| Jan 14, 2022 - 6:28:03 AM | $1,400.00 | i6986 |
| Jan 13, 2022 - 3:48:39 PM | $1,050.02 | i10071 |
| Jan 13, 2022 - 1:38:44 PM | $1,025.02 | i1691 |
| Jan 13, 2022 - 1:38:19 PM | $1,000.02 | i364 |
| Jan 13, 2022 - 1:38:19 PM | $1,000.00 | i1691 |
| Jan 13, 2022 - 1:38:14 PM | $975.00 | i364 |
| Jan 13, 2022 - 1:38:14 PM | $950.00 | i1691 |
| Jan 13, 2022 - 1:38:09 PM | $925.00 | i364 |
| Jan 13, 2022 - 1:38:09 PM | $900.00 | i1691 |
| Jan 13, 2022 - 1:38:03 PM | $875.00 | i364 |
| Jan 13, 2022 - 1:38:03 PM | $850.00 | i1691 |
| Jan 13, 2022 - 1:37:57 PM | $825.00 | i364 |
| Jan 13, 2022 - 1:37:57 PM | $800.00 | i1691 |
| Jan 13, 2022 - 1:37:52 PM | $775.00 | i364 |
| Jan 13, 2022 - 1:37:52 PM | $750.00 | i1691 |
| Jan 13, 2022 - 1:37:46 PM | $725.00 | i364 |
| Jan 13, 2022 - 1:37:46 PM | $700.00 | i1691 |
| Jan 13, 2022 - 1:37:39 PM | $675.00 | i364 |
| Jan 13, 2022 - 1:37:39 PM | $650.00 | i1691 |
| Jan 13, 2022 - 12:40:54 PM | $625.00 | i364 |
| Jan 13, 2022 - 12:40:54 PM | $600.00 | i3715 |
| Jan 13, 2022 - 12:03:33 PM | $575.00 | i364 |
| Jan 13, 2022 - 12:03:33 PM | $550.00 | i8103 |
| Jan 13, 2022 - 11:57:12 AM | $525.01 | i8103 |
| Jan 13, 2022 - 11:57:05 AM | $500.01 | i364 |
| Jan 13, 2022 - 11:57:05 AM | $500.00 | i8103 |
| Jan 13, 2022 - 11:56:58 AM | $460.00 | i364 |
| Jan 13, 2022 - 11:56:58 AM | $450.00 | i8103 |
| Jan 13, 2022 - 11:56:52 AM | $410.00 | i364 |
| Jan 13, 2022 - 11:56:52 AM | $400.00 | i8103 |
| Jan 13, 2022 - 11:56:45 AM | $360.00 | i364 |
| Jan 13, 2022 - 11:56:45 AM | $350.00 | i8103 |
| Jan 13, 2022 - 11:56:38 AM | $310.00 | i364 |
| Jan 13, 2022 - 11:56:38 AM | $300.00 | i8103 |
| Jan 13, 2022 - 11:56:32 AM | $260.00 | i364 |
| Jan 13, 2022 - 11:56:32 AM | $250.00 | i8103 |
| Jan 13, 2022 - 11:56:25 AM | $210.00 | i364 |
| Jan 13, 2022 - 11:56:25 AM | $200.00 | i8103 |
| Jan 13, 2022 - 11:56:18 AM | $160.00 | i364 |
| Jan 13, 2022 - 11:56:18 AM | $150.00 | i8103 |
| Jan 13, 2022 - 11:56:11 AM | $135.00 | i364 |
| Jan 13, 2022 - 11:56:11 AM | $125.00 | i8103 |
| Jan 13, 2022 - 11:55:57 AM | $110.00 | i364 |
| Jan 13, 2022 - 11:55:57 AM | $100.00 | i8103 |
| Jan 13, 2022 - 11:47:49 AM | $5.00 | i364 |