2005 Range Rover HSE RECENTLY SERVICED
All items closed
THURSDAY IN-GALLERY TEST DRIVE: Thursday, January 13, 2022 from 10:00 am to 3:00 pm at 100 Clover Green, Peachtree City, GA 30269 (Gleaton's Gallery) 
GALLERY PICK UP: Monday, January 17, 11:00 am - 5:45 pm at 100 Clover Green, Peachtree City, GA 30269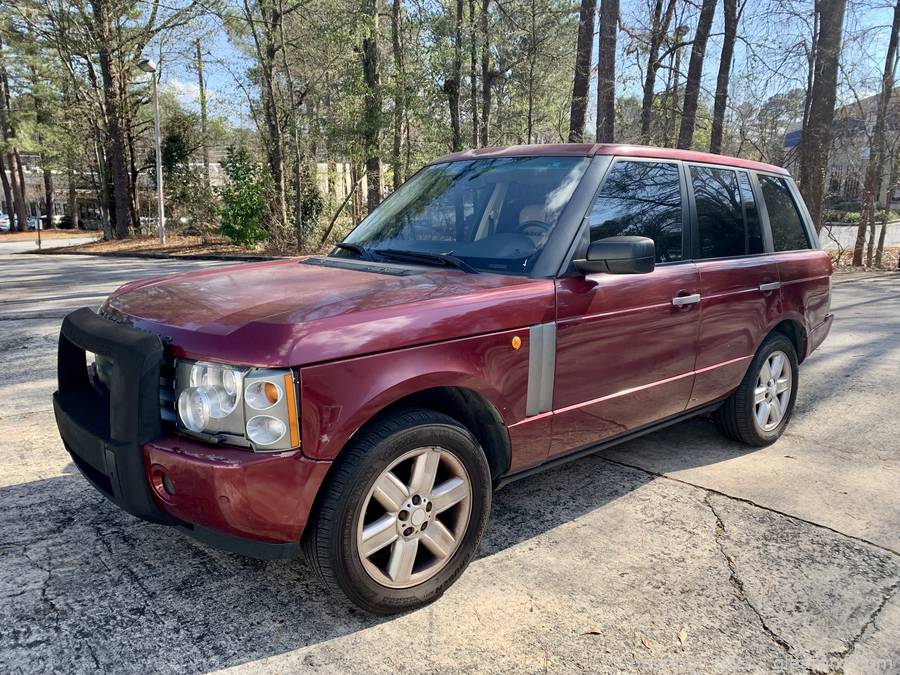 2005 Range Rover HSE in Burgundy
Bidding is

closed

.
High Bid:
$3,050.00
NA
Bidding Ended:
Sun, Jan 16 6:00:06 pm ET
High Bidder:
528
Bid Increment:
$25.00
Starting Bid:
$5.00
Item Location:

100 Clover Green

,

Peachtree City

,

GA

30269

Item has been viewed 1,071 times.

OR BEST OFFER

$6500 Buy Now Price pays ZERO dollars in buyers premium. No buyers premium for buy now price. 
VIN# SALME11445A184914
Miles: 188,517
Just checked out by Peachtree Imports in Peachtree City, GA and minor repairs done to coolant. Tested, driving and running with no issues. 
4.4L Gas V8
5 Speed Automatic Transmission
Air Bag-Frontal-Driver
Air Bag-Frontal-Passenger
Air Bag-Side Body-Front
Air Bag-Side Body-Rear
Air Bag-Side Head-Front
Air Bag-Side Head-Rear
Brakes-ABS
Brakes-Type-4 Wheel DISC
Child Safety Rear Door Locks
Headlights-High Intensity Discharge
Parking Aid
Security System
Traction Control
Air Conditioning-Auto Climate Control
Air Conditioning-Front
Air Conditioning-Multi-Zone
Air Conditioning-Rear
Auto-Dimming Rearview Mirror
Cruise Control
Keyless Entry
Max Seating Capacity: 5
Mirror(s)-Power
Mirrors-Memory
Navigation System
Power Locks
Seat Trim-Leather
Seat-Memory
Seat-Power Driver
Seat-Power Passenger
Seat-Rear Pass-Through
Seats-Front Bucket
Steering Wheel-Adjustable
Steering Wheel-Audio Controls
Steering Wheel-Leather
Steering-Power
Suspension-Air
Trip Computer
Universal Garage Door Opener
Windows-Power
Audio-AM/FM Stereo
Audio-CD Changer
Audio-CD Player
Audio-Upgrade Sound System
*See pictures for details
| | | |
| --- | --- | --- |
| Bid Date | Bid Amount | Bidder |
| Jan 16, 2022 - 5:59:06 PM | $3,050.00 | i528 |
| Jan 16, 2022 - 5:49:04 PM | $3,025.00 | i12913 |
| Jan 16, 2022 - 5:48:57 PM | $3,000.00 | i41 |
| Jan 16, 2022 - 5:48:58 PM | $3,000.00 | i12913 |
| Jan 16, 2022 - 5:48:52 PM | $2,975.00 | i41 |
| Jan 16, 2022 - 5:48:52 PM | $2,950.00 | i12913 |
| Jan 16, 2022 - 5:48:36 PM | $2,925.00 | i41 |
| Jan 16, 2022 - 5:48:36 PM | $2,900.00 | i12913 |
| Jan 16, 2022 - 5:45:51 PM | $2,875.00 | i41 |
| Jan 16, 2022 - 5:45:51 PM | $2,850.00 | i5871 |
| Jan 16, 2022 - 5:38:44 PM | $2,825.00 | i41 |
| Jan 16, 2022 - 5:38:44 PM | $2,800.00 | i9726 |
| Jan 16, 2022 - 5:38:33 PM | $2,775.00 | i41 |
| Jan 16, 2022 - 5:38:33 PM | $2,750.00 | i9726 |
| Jan 16, 2022 - 5:38:11 PM | $2,725.00 | i41 |
| Jan 16, 2022 - 5:38:11 PM | $2,700.00 | i11559 |
| Jan 16, 2022 - 5:36:55 PM | $2,675.00 | i41 |
| Jan 16, 2022 - 5:36:55 PM | $2,650.00 | i9726 |
| Jan 16, 2022 - 5:35:25 PM | $2,625.00 | i41 |
| Jan 16, 2022 - 5:35:25 PM | $2,600.00 | i11559 |
| Jan 16, 2022 - 5:34:49 PM | $2,575.00 | i41 |
| Jan 16, 2022 - 5:34:49 PM | $2,550.00 | i11559 |
| Jan 16, 2022 - 5:19:37 PM | $2,525.00 | i41 |
| Jan 16, 2022 - 5:19:37 PM | $2,500.00 | i11286 |
| Jan 16, 2022 - 5:18:47 PM | $2,325.00 | i41 |
| Jan 16, 2022 - 5:18:47 PM | $2,300.00 | i11286 |
| Jan 16, 2022 - 9:41:10 AM | $2,275.00 | i41 |
| Jan 16, 2022 - 9:41:10 AM | $2,250.00 | i9112 |
| Jan 16, 2022 - 9:40:18 AM | $2,025.00 | i41 |
| Jan 16, 2022 - 9:40:18 AM | $2,000.00 | i9112 |
| Jan 15, 2022 - 7:12:22 PM | $1,876.20 | i41 |
| Jan 15, 2022 - 7:12:22 PM | $1,851.20 | i10868 |
| Jan 15, 2022 - 7:11:41 PM | $1,800.00 | i41 |
| Jan 15, 2022 - 7:11:41 PM | $1,775.00 | i10868 |
| Jan 15, 2022 - 7:11:24 PM | $1,750.00 | i41 |
| Jan 15, 2022 - 7:11:24 PM | $1,725.00 | i10868 |
| Jan 15, 2022 - 7:11:04 PM | $1,700.00 | i41 |
| Jan 15, 2022 - 7:11:04 PM | $1,675.00 | i10868 |
| Jan 14, 2022 - 5:41:10 PM | $1,650.00 | i41 |
| Jan 14, 2022 - 12:28:16 PM | $1,625.00 | i8090 |
| Jan 14, 2022 - 12:28:12 PM | $1,600.00 | i11630 |
| Jan 14, 2022 - 12:28:13 PM | $1,600.00 | i8090 |
| Jan 14, 2022 - 10:57:36 AM | $1,575.00 | i11630 |
| Jan 13, 2022 - 11:32:17 AM | $1,550.00 | i3877 |
| Jan 12, 2022 - 3:13:54 PM | $1,525.00 | i11286 |
| Jan 12, 2022 - 3:13:47 PM | $1,500.00 | i9660 |
| Jan 12, 2022 - 3:13:48 PM | $1,500.00 | i11286 |
| Jan 12, 2022 - 3:13:35 PM | $1,475.00 | i9660 |
| Jan 12, 2022 - 3:13:35 PM | $1,450.00 | i11286 |
| Jan 11, 2022 - 1:32:52 PM | $1,425.00 | i9660 |
| Jan 11, 2022 - 1:32:52 PM | $1,400.00 | i11630 |
| Jan 11, 2022 - 10:32:07 AM | $1,350.00 | i9660 |
| Jan 9, 2022 - 8:09:24 PM | $1,325.00 | i8090 |
| Jan 9, 2022 - 8:09:24 PM | $1,310.00 | i402 |
| Jan 9, 2022 - 7:26:42 PM | $1,300.00 | i402 |
| Jan 9, 2022 - 7:05:34 AM | $1,275.00 | i4096 |
| Jan 8, 2022 - 11:37:46 PM | $1,250.00 | i1691 |
| Jan 8, 2022 - 7:36:52 PM | $1,225.00 | i8090 |
| Jan 8, 2022 - 7:36:45 PM | $1,200.00 | i9808 |
| Jan 8, 2022 - 7:36:46 PM | $1,200.00 | i8090 |
| Jan 8, 2022 - 7:36:41 PM | $1,175.00 | i9808 |
| Jan 8, 2022 - 7:36:41 PM | $1,150.00 | i8090 |
| Jan 8, 2022 - 7:36:37 PM | $1,125.00 | i9808 |
| Jan 8, 2022 - 7:36:37 PM | $1,100.00 | i8090 |
| Jan 8, 2022 - 7:36:32 PM | $1,075.00 | i9808 |
| Jan 8, 2022 - 7:36:32 PM | $1,050.00 | i8090 |
| Jan 8, 2022 - 7:36:27 PM | $1,025.00 | i9808 |
| Jan 8, 2022 - 7:36:27 PM | $1,000.00 | i8090 |
| Jan 8, 2022 - 7:35:41 PM | $975.00 | i9808 |
| Jan 8, 2022 - 7:35:41 PM | $950.00 | i8090 |
| Jan 8, 2022 - 7:35:33 PM | $925.00 | i9808 |
| Jan 8, 2022 - 7:35:33 PM | $900.00 | i8090 |
| Jan 8, 2022 - 7:35:27 PM | $875.00 | i9808 |
| Jan 8, 2022 - 7:35:27 PM | $850.00 | i8090 |
| Jan 8, 2022 - 7:35:23 PM | $825.00 | i9808 |
| Jan 8, 2022 - 7:35:23 PM | $800.00 | i8090 |
| Jan 8, 2022 - 7:35:19 PM | $775.00 | i9808 |
| Jan 8, 2022 - 7:35:19 PM | $750.00 | i8090 |
| Jan 8, 2022 - 7:35:14 PM | $725.00 | i9808 |
| Jan 8, 2022 - 7:35:14 PM | $700.00 | i8090 |
| Jan 8, 2022 - 7:35:09 PM | $675.00 | i9808 |
| Jan 8, 2022 - 7:35:09 PM | $650.00 | i8090 |
| Jan 8, 2022 - 7:35:05 PM | $625.00 | i9808 |
| Jan 8, 2022 - 7:35:05 PM | $600.00 | i8090 |
| Jan 8, 2022 - 7:34:55 PM | $575.00 | i9808 |
| Jan 8, 2022 - 7:34:55 PM | $550.00 | i8090 |
| Jan 8, 2022 - 7:34:45 PM | $351.00 | i9808 |
| Jan 8, 2022 - 7:34:45 PM | $341.00 | i8090 |
| Jan 8, 2022 - 9:47:31 AM | $331.00 | i9808 |
| Jan 7, 2022 - 11:01:55 PM | $321.00 | i40 |
| Jan 7, 2022 - 10:40:42 PM | $311.00 | i113 |
| Jan 7, 2022 - 7:35:30 PM | $301.00 | i816 |
| Jan 7, 2022 - 7:35:30 PM | $300.00 | i6462 |
| Jan 7, 2022 - 7:35:17 PM | $260.00 | i6462 |
| Jan 7, 2022 - 7:35:17 PM | $250.00 | i816 |
| Jan 7, 2022 - 7:35:00 PM | $110.00 | i6462 |
| Jan 7, 2022 - 7:35:00 PM | $100.00 | i816 |
| Jan 7, 2022 - 4:14:18 PM | $5.00 | i6462 |