NICE John Deere 670 Tractor (ONLY 484 Hours) with Grooming Mower
All items closed
Test Drive: Thursday, November 18 from 10:00 am to 3:00 pm and Monday, November 22 from Noon to 5:00 pm at 100 Clover Green, Peachtree City, GA 30269 (Gleaton's Gallery) 
GALLERY PICK UP: Monday, November 29, 11:00 am - 5:45 pm at 100 Clover Green, Peachtree City, GA 30269 
This is an Online Auction presented by Gleaton's. Gleaton's is the best auction company and highest rated online auction marketplace in Metro Atlanta area. Gleaton's is the go to company for Estate Sales in Atlanta GA area, Business Liquidations in Metro Atlanta and Georgia Region & Real Estate Auctions and Listings.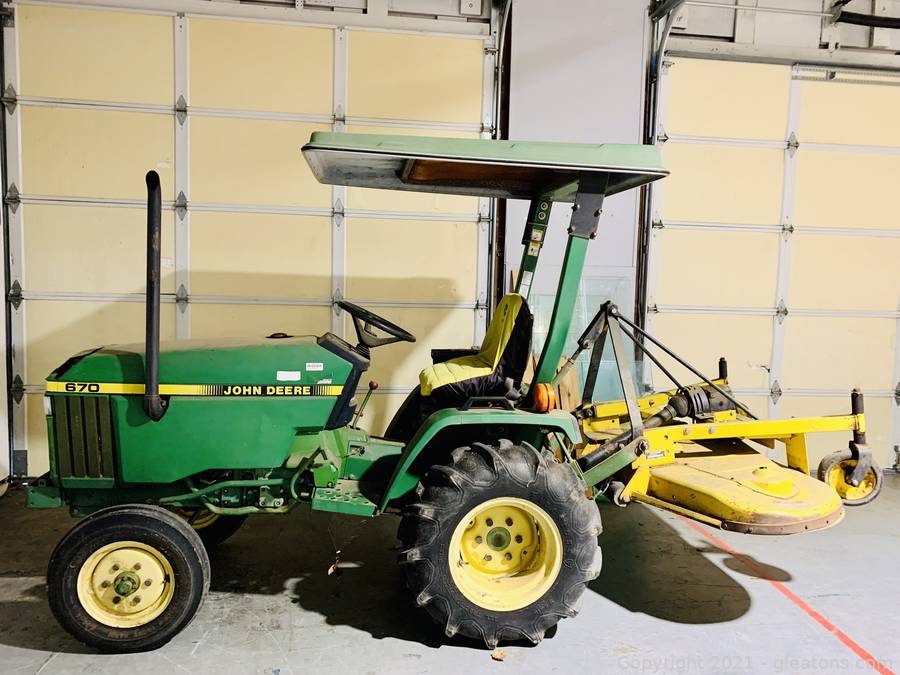 LOW HOURS John Deere 670 Tractor with 261 Grooming Mower
Bidding is

closed

.
High Bid:
$4,550.00
NA
Bidding Ended:
Sat, Nov 27 8:00:00 pm ET
High Bidder:
8901
Bid Increment:
$25.00
Starting Bid:
$5.00
Item Location:

100 Clover Green

,

Peachtree City

,

GA

30269

Item has been viewed 758 times.

OR BEST OFFER

Nice Low hours John Deere 670 Tractor
Only 484 Hours (Hardly used since purchased)
18 HP
Nice Finishing Mower comes with Tractor
Set up and ready to work on local farm 
#m00261X526414
| | | |
| --- | --- | --- |
| Bid Date | Bid Amount | Bidder |
| Nov 27, 2021 - 7:58:50 PM | $4,550.00 | i8901 |
| Nov 27, 2021 - 7:58:51 PM | $4,550.00 | i10470 |
| Nov 27, 2021 - 7:52:00 PM | $4,525.00 | i8901 |
| Nov 27, 2021 - 7:52:00 PM | $4,500.00 | i12418 |
| Nov 27, 2021 - 7:43:55 PM | $4,375.00 | i12418 |
| Nov 27, 2021 - 7:43:55 PM | $4,350.00 | i8901 |
| Nov 27, 2021 - 7:42:45 PM | $4,125.01 | i12418 |
| Nov 27, 2021 - 7:42:45 PM | $4,100.01 | i8901 |
| Nov 27, 2021 - 7:42:35 PM | $4,075.01 | i12418 |
| Nov 27, 2021 - 7:42:35 PM | $4,050.01 | i8901 |
| Nov 23, 2021 - 7:22:42 AM | $4,025.01 | i12418 |
| Nov 21, 2021 - 8:50:27 PM | $4,000.01 | i364 |
| Nov 21, 2021 - 8:50:27 PM | $4,000.00 | i1638 |
| Nov 21, 2021 - 8:50:11 PM | $3,975.00 | i1638 |
| Nov 21, 2021 - 8:50:11 PM | $3,950.00 | i364 |
| Nov 21, 2021 - 8:50:08 PM | $3,925.00 | i1638 |
| Nov 21, 2021 - 8:50:08 PM | $3,900.00 | i364 |
| Nov 21, 2021 - 8:50:05 PM | $3,875.00 | i1638 |
| Nov 21, 2021 - 8:50:05 PM | $3,850.00 | i364 |
| Nov 21, 2021 - 8:50:02 PM | $3,825.00 | i1638 |
| Nov 21, 2021 - 8:50:02 PM | $3,800.00 | i364 |
| Nov 21, 2021 - 8:49:59 PM | $3,775.00 | i1638 |
| Nov 21, 2021 - 8:49:59 PM | $3,750.00 | i364 |
| Nov 21, 2021 - 8:49:55 PM | $3,725.00 | i1638 |
| Nov 21, 2021 - 8:49:55 PM | $3,700.00 | i364 |
| Nov 21, 2021 - 8:49:52 PM | $3,675.00 | i1638 |
| Nov 21, 2021 - 8:49:52 PM | $3,650.00 | i364 |
| Nov 21, 2021 - 8:47:07 PM | $3,625.00 | i1638 |
| Nov 21, 2021 - 8:47:07 PM | $3,600.00 | i364 |
| Nov 21, 2021 - 8:47:03 PM | $3,575.00 | i1638 |
| Nov 21, 2021 - 8:47:03 PM | $3,550.00 | i364 |
| Nov 21, 2021 - 8:46:59 PM | $3,525.00 | i1638 |
| Nov 21, 2021 - 8:46:59 PM | $3,500.00 | i364 |
| Nov 21, 2021 - 8:46:56 PM | $3,475.00 | i1638 |
| Nov 21, 2021 - 8:46:56 PM | $3,450.00 | i364 |
| Nov 21, 2021 - 8:46:53 PM | $3,425.00 | i1638 |
| Nov 21, 2021 - 8:46:53 PM | $3,400.00 | i364 |
| Nov 21, 2021 - 8:46:49 PM | $3,375.00 | i1638 |
| Nov 21, 2021 - 8:46:49 PM | $3,350.00 | i364 |
| Nov 21, 2021 - 8:46:45 PM | $3,325.00 | i1638 |
| Nov 21, 2021 - 8:46:45 PM | $3,300.00 | i364 |
| Nov 21, 2021 - 8:46:41 PM | $3,275.00 | i1638 |
| Nov 21, 2021 - 8:46:41 PM | $3,250.00 | i364 |
| Nov 21, 2021 - 8:46:38 PM | $3,225.00 | i1638 |
| Nov 21, 2021 - 8:46:38 PM | $3,200.00 | i364 |
| Nov 21, 2021 - 8:46:34 PM | $3,175.00 | i1638 |
| Nov 21, 2021 - 8:46:34 PM | $3,150.00 | i364 |
| Nov 21, 2021 - 8:46:28 PM | $3,125.00 | i1638 |
| Nov 21, 2021 - 8:46:28 PM | $3,100.00 | i364 |
| Nov 21, 2021 - 8:46:06 PM | $3,075.00 | i1638 |
| Nov 21, 2021 - 8:46:06 PM | $3,050.00 | i364 |
| Nov 21, 2021 - 8:46:03 PM | $3,025.00 | i1638 |
| Nov 21, 2021 - 8:46:03 PM | $3,000.00 | i364 |
| Nov 21, 2021 - 8:45:57 PM | $2,975.00 | i1638 |
| Nov 21, 2021 - 8:45:57 PM | $2,950.00 | i364 |
| Nov 21, 2021 - 8:45:52 PM | $2,925.00 | i1638 |
| Nov 21, 2021 - 8:45:52 PM | $2,900.00 | i364 |
| Nov 21, 2021 - 8:45:45 PM | $2,875.00 | i1638 |
| Nov 21, 2021 - 8:45:45 PM | $2,850.00 | i364 |
| Nov 21, 2021 - 7:59:34 PM | $2,825.00 | i1638 |
| Nov 21, 2021 - 7:59:34 PM | $2,800.00 | i11438 |
| Nov 21, 2021 - 7:25:02 PM | $2,526.00 | i11438 |
| Nov 21, 2021 - 7:24:50 PM | $2,501.00 | i8901 |
| Nov 21, 2021 - 7:24:50 PM | $2,500.00 | i11438 |
| Nov 21, 2021 - 7:24:46 PM | $2,475.00 | i8901 |
| Nov 21, 2021 - 7:24:46 PM | $2,450.00 | i11438 |
| Nov 21, 2021 - 7:24:40 PM | $2,425.00 | i8901 |
| Nov 21, 2021 - 7:24:40 PM | $2,400.00 | i11438 |
| Nov 21, 2021 - 6:38:31 PM | $2,375.00 | i8901 |
| Nov 21, 2021 - 6:38:31 PM | $2,350.00 | i104 |
| Nov 20, 2021 - 8:04:24 PM | $2,325.00 | i8901 |
| Nov 20, 2021 - 8:04:24 PM | $2,300.00 | i1633 |
| Nov 19, 2021 - 7:59:27 AM | $2,125.00 | i1633 |
| Nov 19, 2021 - 7:59:27 AM | $2,100.00 | i5734 |
| Nov 18, 2021 - 11:55:39 AM | $2,050.55 | i5734 |
| Nov 18, 2021 - 11:55:39 AM | $2,025.55 | i6003 |
| Nov 17, 2021 - 7:51:33 PM | $1,525.00 | i6003 |
| Nov 17, 2021 - 7:51:33 PM | $1,500.00 | i8103 |
| Nov 17, 2021 - 7:51:28 PM | $1,475.00 | i6003 |
| Nov 17, 2021 - 7:51:28 PM | $1,450.00 | i8103 |
| Nov 17, 2021 - 7:51:24 PM | $1,425.00 | i6003 |
| Nov 17, 2021 - 7:51:24 PM | $1,400.00 | i8103 |
| Nov 17, 2021 - 7:51:20 PM | $1,375.00 | i6003 |
| Nov 17, 2021 - 7:51:20 PM | $1,350.00 | i8103 |
| Nov 17, 2021 - 7:51:16 PM | $1,325.00 | i6003 |
| Nov 17, 2021 - 7:51:16 PM | $1,300.00 | i8103 |
| Nov 17, 2021 - 7:51:10 PM | $1,275.00 | i6003 |
| Nov 17, 2021 - 7:51:10 PM | $1,250.00 | i8103 |
| Nov 17, 2021 - 6:16:55 PM | $1,225.00 | i6003 |
| Nov 17, 2021 - 6:16:55 PM | $1,200.00 | i2762 |
| Nov 17, 2021 - 2:14:33 PM | $1,025.00 | i2762 |
| Nov 17, 2021 - 2:14:33 PM | $1,000.00 | i12387 |
| Nov 17, 2021 - 11:13:48 AM | $975.00 | i2762 |
| Nov 17, 2021 - 11:13:48 AM | $950.00 | i6069 |
| Nov 17, 2021 - 11:13:36 AM | $925.00 | i2762 |
| Nov 17, 2021 - 11:13:36 AM | $900.00 | i6069 |
| Nov 17, 2021 - 11:13:25 AM | $875.00 | i2762 |
| Nov 17, 2021 - 11:13:25 AM | $850.00 | i6069 |
| Nov 17, 2021 - 11:13:15 AM | $825.00 | i2762 |
| Nov 17, 2021 - 11:13:15 AM | $800.00 | i6069 |
| Nov 17, 2021 - 11:13:06 AM | $775.00 | i2762 |
| Nov 17, 2021 - 11:13:06 AM | $750.00 | i6069 |
| Nov 17, 2021 - 11:12:59 AM | $725.00 | i2762 |
| Nov 17, 2021 - 11:12:59 AM | $700.00 | i6069 |
| Nov 17, 2021 - 11:12:48 AM | $675.00 | i2762 |
| Nov 17, 2021 - 11:12:48 AM | $650.00 | i6069 |
| Nov 17, 2021 - 11:12:40 AM | $625.00 | i2762 |
| Nov 17, 2021 - 11:12:40 AM | $600.00 | i6069 |
| Nov 17, 2021 - 11:12:29 AM | $575.00 | i2762 |
| Nov 17, 2021 - 11:12:29 AM | $550.00 | i6069 |
| Nov 17, 2021 - 11:11:17 AM | $525.00 | i2762 |
| Nov 17, 2021 - 11:11:17 AM | $500.00 | i11630 |
| Nov 17, 2021 - 11:10:50 AM | $410.00 | i2762 |
| Nov 17, 2021 - 11:10:50 AM | $400.00 | i11630 |
| Nov 17, 2021 - 11:10:43 AM | $310.00 | i2762 |
| Nov 17, 2021 - 11:10:43 AM | $300.00 | i11630 |
| Nov 17, 2021 - 11:10:36 AM | $210.00 | i2762 |
| Nov 17, 2021 - 11:10:36 AM | $200.00 | i11630 |
| Nov 17, 2021 - 11:10:29 AM | $160.00 | i2762 |
| Nov 17, 2021 - 11:10:29 AM | $150.00 | i11630 |
| Nov 17, 2021 - 11:10:21 AM | $130.00 | i2762 |
| Nov 17, 2021 - 11:10:21 AM | $120.00 | i11630 |
| Nov 17, 2021 - 10:46:28 AM | $110.00 | i2762 |
| Nov 17, 2021 - 10:37:42 AM | $100.00 | i9136 |
| Nov 17, 2021 - 10:37:43 AM | $100.00 | i12387 |
| Nov 17, 2021 - 10:37:15 AM | $17.50 | i9136 |
| Nov 17, 2021 - 10:37:15 AM | $15.00 | i12387 |
| Nov 17, 2021 - 12:31:20 AM | $12.50 | i9136 |
| Nov 17, 2021 - 12:31:20 AM | $10.00 | i11941 |
| Nov 16, 2021 - 5:38:44 PM | $5.00 | i11941 |