ESTATE MERCEDES with Low miles! 2013 Mercedes-Benz C250 Sport Sedan 4D
Bidding Now! -
ends Sun, Aug 1 at 08:00:00 pm
THURSDAYS IN-GALLERY MARKET SALE: Thursdays, July 22 and 27, 2021 from 10:00 am to 3:00 pm at 100 Clover Green, Peachtree City, GA 30269 (Gleaton's Gallery) 
GALLERY PICK UP: Monday, August 2, 10:00 am - 5:45 pm at 100 Clover Green, Peachtree City, GA 30269 
This is an Online Auction presented by Gleaton's. Gleaton's is the best auction company and highest rated online auction marketplace in Metro Atlanta area. Gleaton's is the go to company for Estate Sales in Atlanta GA area, Business Liquidations in Metro Atlanta and Georgia Region & Real Estate Auctions and Listings.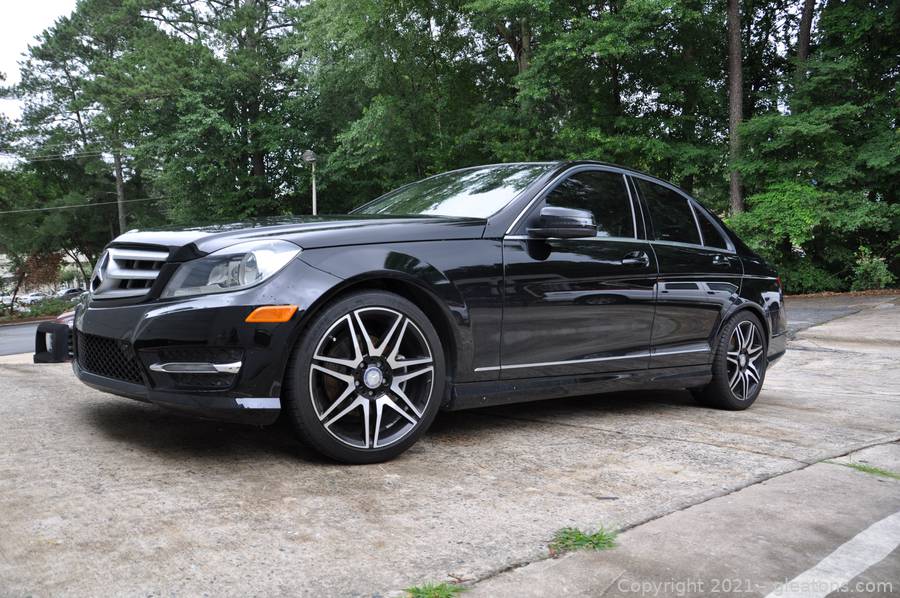 2013 Mercedes-Benz C250 Sport Sedan 4D
Current Bid
$11,025.00
NA
Time Remaining:
2 hours, 57 minutes, 57 seconds
Extended Bidding:
i
Bidding Ends:
Sun, Aug 1 8:00:00 pm ET
High Bidder:
3170
Bid Increment:
$25.00
Starting Bid:
$5.00
Item Location:

100 Clover Green

,

Peachtree City

,

GA

30269

Item has been viewed 1,919 times.

OR BEST OFFER

VIN # WDDGF4HBXDA801311
Exterior Color: Black 
Interior Color: Black Leather with Red Seat Belts and Stitching
18" Wheels 
Hard to Find Panoramic Sunroof! 
1.8L 4 CYL Turbo 7A
38,920 Miles 
MP3 Player
Power Outlet
Navigation
Large Screen
Round Toggle Switch to Operate Screen
| | | |
| --- | --- | --- |
| Bid Date | Bid Amount | Bidder |
| Aug 1, 2021 - 4:24:04 PM | $11,025.00 | i3170 |
| Aug 1, 2021 - 4:24:04 PM | $11,000.00 | i10470 |
| Jul 31, 2021 - 9:34:26 AM | $10,475.00 | i3170 |
| Jul 31, 2021 - 9:34:26 AM | $10,450.00 | i11145 |
| Jul 31, 2021 - 8:43:03 AM | $10,425.00 | i3170 |
| Jul 31, 2021 - 8:42:58 AM | $10,400.00 | i6007 |
| Jul 31, 2021 - 8:42:59 AM | $10,400.00 | i3170 |
| Jul 31, 2021 - 8:42:32 AM | $10,375.00 | i6007 |
| Jul 31, 2021 - 8:42:32 AM | $10,350.00 | i3170 |
| Jul 31, 2021 - 8:42:23 AM | $10,325.00 | i6007 |
| Jul 31, 2021 - 8:42:23 AM | $10,300.00 | i3170 |
| Jul 31, 2021 - 8:42:03 AM | $10,275.00 | i6007 |
| Jul 31, 2021 - 8:42:03 AM | $10,250.00 | i3170 |
| Jul 31, 2021 - 8:41:54 AM | $10,225.00 | i6007 |
| Jul 31, 2021 - 8:41:54 AM | $10,200.00 | i3170 |
| Jul 31, 2021 - 8:41:42 AM | $10,175.00 | i6007 |
| Jul 31, 2021 - 8:41:42 AM | $10,150.00 | i3170 |
| Jul 31, 2021 - 8:41:20 AM | $10,125.00 | i6007 |
| Jul 31, 2021 - 8:41:20 AM | $10,100.00 | i3170 |
| Jul 30, 2021 - 8:44:25 PM | $10,075.00 | i6007 |
| Jul 30, 2021 - 8:44:25 PM | $10,050.00 | i11145 |
| Jul 30, 2021 - 1:28:50 PM | $10,025.00 | i6007 |
| Jul 30, 2021 - 1:27:29 PM | $10,000.00 | i2241 |
| Jul 30, 2021 - 1:27:30 PM | $10,000.00 | i6007 |
| Jul 30, 2021 - 11:30:57 AM | $9,725.00 | i2241 |
| Jul 30, 2021 - 11:30:57 AM | $9,700.00 | i10442 |
| Jul 30, 2021 - 11:28:20 AM | $9,625.00 | i2241 |
| Jul 30, 2021 - 11:28:20 AM | $9,600.00 | i10442 |
| Jul 30, 2021 - 11:27:43 AM | $9,525.00 | i2241 |
| Jul 30, 2021 - 11:27:43 AM | $9,500.00 | i10442 |
| Jul 30, 2021 - 11:26:26 AM | $9,325.00 | i2241 |
| Jul 30, 2021 - 11:26:26 AM | $9,300.00 | i10442 |
| Jul 28, 2021 - 12:42:39 PM | $9,275.00 | i2241 |
| Jul 28, 2021 - 12:42:39 PM | $9,250.00 | i11145 |
| Jul 28, 2021 - 12:38:47 PM | $9,225.00 | i2241 |
| Jul 28, 2021 - 12:38:47 PM | $9,200.00 | i11145 |
| Jul 28, 2021 - 12:37:22 PM | $9,175.00 | i2241 |
| Jul 28, 2021 - 12:37:22 PM | $9,150.00 | i11145 |
| Jul 28, 2021 - 12:36:09 PM | $9,125.00 | i2241 |
| Jul 28, 2021 - 12:36:09 PM | $9,100.00 | i11145 |
| Jul 28, 2021 - 4:45:01 AM | $9,075.00 | i2241 |
| Jul 28, 2021 - 4:45:01 AM | $9,050.00 | i11145 |
| Jul 22, 2021 - 9:12:49 PM | $9,025.00 | i2241 |
| Jul 22, 2021 - 9:12:49 PM | $9,000.00 | i6007 |
| Jul 22, 2021 - 10:44:26 AM | $8,025.00 | i6007 |
| Jul 22, 2021 - 10:43:52 AM | $8,000.00 | i7199 |
| Jul 22, 2021 - 10:43:53 AM | $8,000.00 | i6007 |
| Jul 22, 2021 - 4:01:47 AM | $7,525.00 | i7199 |
| Jul 22, 2021 - 4:01:47 AM | $7,500.00 | i3224 |
| Jul 21, 2021 - 8:15:21 PM | $6,825.00 | i7199 |
| Jul 21, 2021 - 8:15:21 PM | $6,800.00 | i11101 |
| Jul 21, 2021 - 8:15:02 PM | $6,775.00 | i7199 |
| Jul 21, 2021 - 8:15:02 PM | $6,750.00 | i11101 |
| Jul 21, 2021 - 8:14:18 PM | $6,725.00 | i7199 |
| Jul 21, 2021 - 8:14:18 PM | $6,700.00 | i11101 |
| Jul 21, 2021 - 8:14:10 PM | $6,675.00 | i7199 |
| Jul 21, 2021 - 8:14:10 PM | $6,650.00 | i11101 |
| Jul 21, 2021 - 8:14:03 PM | $6,625.00 | i7199 |
| Jul 21, 2021 - 8:14:03 PM | $6,600.00 | i11101 |
| Jul 21, 2021 - 10:30:56 AM | $6,575.00 | i7199 |
| Jul 21, 2021 - 10:30:56 AM | $6,550.00 | i11101 |
| Jul 21, 2021 - 10:28:42 AM | $6,525.00 | i7199 |
| Jul 21, 2021 - 10:28:42 AM | $6,500.00 | i9726 |
| Jul 21, 2021 - 10:21:30 AM | $6,075.00 | i9726 |
| Jul 21, 2021 - 10:21:30 AM | $6,050.00 | i11101 |
| Jul 21, 2021 - 9:30:53 AM | $6,025.00 | i9726 |
| Jul 21, 2021 - 9:24:58 AM | $6,000.00 | i7199 |
| Jul 21, 2021 - 9:24:59 AM | $6,000.00 | i7635 |
| Jul 21, 2021 - 9:24:41 AM | $5,325.00 | i7199 |
| Jul 21, 2021 - 9:24:41 AM | $5,300.00 | i7635 |
| Jul 21, 2021 - 9:24:35 AM | $5,275.00 | i7199 |
| Jul 21, 2021 - 9:24:35 AM | $5,250.00 | i7635 |
| Jul 21, 2021 - 9:24:28 AM | $5,225.00 | i7199 |
| Jul 21, 2021 - 9:24:28 AM | $5,200.00 | i7635 |
| Jul 21, 2021 - 9:24:22 AM | $5,175.00 | i7199 |
| Jul 21, 2021 - 9:24:22 AM | $5,150.00 | i7635 |
| Jul 21, 2021 - 9:17:39 AM | $5,125.00 | i7199 |
| Jul 21, 2021 - 9:17:39 AM | $5,100.00 | i11101 |
| Jul 21, 2021 - 5:49:21 AM | $5,025.00 | i11101 |
| Jul 21, 2021 - 5:49:21 AM | $5,000.00 | i2898 |
| Jul 21, 2021 - 5:47:39 AM | $4,125.00 | i2898 |
| Jul 21, 2021 - 5:47:39 AM | $4,100.00 | i11101 |
| Jul 20, 2021 - 11:23:01 PM | $4,025.00 | i11101 |
| Jul 20, 2021 - 11:23:01 PM | $4,000.00 | i8090 |
| Jul 20, 2021 - 11:22:49 PM | $3,450.00 | i11101 |
| Jul 20, 2021 - 11:22:49 PM | $3,425.00 | i8090 |
| Jul 20, 2021 - 11:22:43 PM | $3,400.00 | i11101 |
| Jul 20, 2021 - 11:22:43 PM | $3,375.00 | i8090 |
| Jul 20, 2021 - 11:22:39 PM | $3,350.00 | i11101 |
| Jul 20, 2021 - 11:22:39 PM | $3,325.00 | i8090 |
| Jul 20, 2021 - 11:22:34 PM | $3,300.00 | i11101 |
| Jul 20, 2021 - 11:22:34 PM | $3,275.00 | i8090 |
| Jul 20, 2021 - 11:22:30 PM | $3,250.00 | i11101 |
| Jul 20, 2021 - 11:22:30 PM | $3,225.00 | i8090 |
| Jul 20, 2021 - 11:22:23 PM | $3,200.00 | i11101 |
| Jul 20, 2021 - 11:22:23 PM | $3,175.00 | i8090 |
| Jul 20, 2021 - 9:10:02 PM | $3,150.00 | i11101 |
| Jul 20, 2021 - 9:09:13 PM | $3,125.00 | i1633 |
| Jul 20, 2021 - 8:58:06 PM | $3,100.00 | i11101 |
| Jul 20, 2021 - 8:49:43 PM | $3,075.00 | i1633 |
| Jul 20, 2021 - 4:21:18 PM | $3,050.00 | i11101 |
| Jul 20, 2021 - 12:33:11 PM | $3,025.00 | i1633 |
| Jul 20, 2021 - 10:51:21 AM | $3,000.00 | i9726 |
| Jul 20, 2021 - 10:51:22 AM | $3,000.00 | i1691 |
| Jul 20, 2021 - 10:51:15 AM | $2,975.00 | i9726 |
| Jul 20, 2021 - 10:51:15 AM | $2,950.00 | i1691 |
| Jul 20, 2021 - 10:51:10 AM | $2,925.00 | i9726 |
| Jul 20, 2021 - 10:51:10 AM | $2,900.00 | i1691 |
| Jul 20, 2021 - 10:51:01 AM | $2,875.00 | i9726 |
| Jul 20, 2021 - 10:51:01 AM | $2,850.00 | i1691 |
| Jul 20, 2021 - 10:50:54 AM | $2,825.00 | i9726 |
| Jul 20, 2021 - 10:50:54 AM | $2,800.00 | i1691 |
| Jul 20, 2021 - 10:50:50 AM | $2,775.00 | i9726 |
| Jul 20, 2021 - 10:50:50 AM | $2,750.00 | i1691 |
| Jul 20, 2021 - 10:50:45 AM | $2,725.00 | i9726 |
| Jul 20, 2021 - 10:50:45 AM | $2,700.00 | i1691 |
| Jul 20, 2021 - 10:50:40 AM | $2,675.00 | i9726 |
| Jul 20, 2021 - 10:50:40 AM | $2,650.00 | i1691 |
| Jul 20, 2021 - 10:50:33 AM | $2,625.00 | i9726 |
| Jul 20, 2021 - 10:50:33 AM | $2,600.00 | i1691 |
| Jul 20, 2021 - 10:50:26 AM | $2,575.00 | i9726 |
| Jul 20, 2021 - 10:50:26 AM | $2,550.00 | i1691 |
| Jul 20, 2021 - 6:23:58 AM | $2,525.00 | i9726 |
| Jul 20, 2021 - 6:23:50 AM | $2,500.00 | i10071 |
| Jul 20, 2021 - 6:23:51 AM | $2,500.00 | i9726 |
| Jul 20, 2021 - 6:23:41 AM | $2,025.00 | i10071 |
| Jul 20, 2021 - 6:23:41 AM | $2,000.00 | i9726 |
| Jul 19, 2021 - 11:09:12 PM | $1,505.00 | i10071 |
| Jul 19, 2021 - 11:09:12 PM | $1,480.00 | i9931 |
| Jul 19, 2021 - 11:07:24 PM | $1,455.00 | i10071 |
| Jul 19, 2021 - 11:07:24 PM | $1,430.00 | i9931 |
| Jul 19, 2021 - 11:06:37 PM | $1,405.00 | i10071 |
| Jul 19, 2021 - 11:06:37 PM | $1,380.00 | i9931 |
| Jul 19, 2021 - 11:06:13 PM | $1,355.00 | i10071 |
| Jul 19, 2021 - 11:06:13 PM | $1,330.00 | i9931 |
| Jul 19, 2021 - 11:06:02 PM | $1,305.00 | i10071 |
| Jul 19, 2021 - 11:06:02 PM | $1,280.00 | i9931 |
| Jul 19, 2021 - 11:05:38 PM | $1,255.00 | i10071 |
| Jul 19, 2021 - 11:05:38 PM | $1,230.00 | i9931 |
| Jul 19, 2021 - 11:05:30 PM | $1,205.00 | i10071 |
| Jul 19, 2021 - 11:05:30 PM | $1,180.00 | i9931 |
| Jul 19, 2021 - 11:05:24 PM | $1,155.00 | i10071 |
| Jul 19, 2021 - 11:05:24 PM | $1,130.00 | i9931 |
| Jul 19, 2021 - 11:05:11 PM | $1,105.00 | i10071 |
| Jul 19, 2021 - 11:05:11 PM | $1,080.00 | i9931 |
| Jul 19, 2021 - 9:37:06 PM | $1,050.00 | i10071 |
| Jul 19, 2021 - 8:04:51 PM | $1,025.00 | i11101 |
| Jul 19, 2021 - 8:04:45 PM | $1,000.00 | i8622 |
| Jul 19, 2021 - 8:04:46 PM | $1,000.00 | i11101 |
| Jul 19, 2021 - 8:04:40 PM | $975.00 | i8622 |
| Jul 19, 2021 - 8:04:40 PM | $950.00 | i11101 |
| Jul 19, 2021 - 8:02:22 PM | $925.00 | i8622 |
| Jul 19, 2021 - 8:02:22 PM | $900.00 | i6070 |
| Jul 19, 2021 - 7:33:48 PM | $875.00 | i8622 |
| Jul 19, 2021 - 7:33:48 PM | $850.00 | i1454 |
| Jul 19, 2021 - 6:04:54 PM | $825.00 | i8622 |
| Jul 19, 2021 - 6:04:54 PM | $800.00 | i3577 |
| Jul 19, 2021 - 6:04:47 PM | $775.00 | i8622 |
| Jul 19, 2021 - 6:04:47 PM | $750.00 | i3577 |
| Jul 19, 2021 - 6:04:41 PM | $725.00 | i8622 |
| Jul 19, 2021 - 6:04:41 PM | $700.00 | i3577 |
| Jul 19, 2021 - 6:04:33 PM | $675.00 | i8622 |
| Jul 19, 2021 - 6:04:33 PM | $650.00 | i3577 |
| Jul 19, 2021 - 6:04:21 PM | $625.00 | i8622 |
| Jul 19, 2021 - 6:04:21 PM | $600.00 | i3577 |
| Jul 19, 2021 - 6:04:08 PM | $575.00 | i8622 |
| Jul 19, 2021 - 6:04:08 PM | $550.00 | i3577 |
| Jul 19, 2021 - 4:59:52 PM | $525.00 | i8622 |
| Jul 19, 2021 - 4:59:32 PM | $500.00 | i11101 |
| Jul 19, 2021 - 4:59:33 PM | $500.00 | i8622 |
| Jul 19, 2021 - 4:43:27 PM | $5.00 | i11101 |