Nice Kubota M5-091 Cab Tractor (JUST SERVICED) Online Auction
All items closed
SATURDAY IN-GALLERY MARKET SALE: Saturdays June 5 & 12, 2021 from 10:00 am to 3:00 pm at 100 Clover Green, Peachtree City, GA 30269 (Gleaton's Gallery) 
GALLERY PICK UP: Wednesday, June 16, 10:00 am - 4:00 pm at 100 Clover Green, Peachtree City, GA 30269 
This is an Online Auction presented by Gleaton's. Gleaton's is the best auction company and highest rated online auction marketplace in Metro Atlanta area. Gleaton's is the go to company for Estate Sales in Atlanta GA area, Business Liquidations in Metro Atlanta and Georgia Region & Real Estate Auctions and Listings.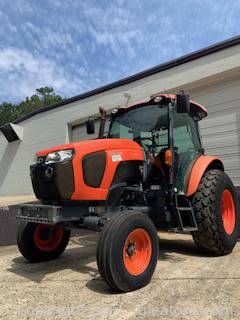 Nice Kubota M5-091 Cab Tractor (JUST SERVICED) Online Auction
Bidding is

closed

.
High Bid:
$17,525.00
NA
Bidding Ended:
Tue, Jun 15 11:06:55 am ET
High Bidder:
935
Bid Increment:
$25.00
Starting Bid:
$5.00
Item Location:

100 Clover Green

,

Peachtree City

,

GA

30269

Item has been viewed 1,999 times.

OR BEST OFFER

See Short Video for Engine Startup: 
Great working tractor that can do it all around the farm! 
Just Serviced by Mason Tractor Company has no issues. 
New Def Tank & Pump
New Battery
3674 Hours 
3 Point Hitch 
Max PTO HP: 76
| | | |
| --- | --- | --- |
| Bid Date | Bid Amount | Bidder |
| Jun 15, 2021 - 11:05:55 AM | $17,525.00 | i935 |
| Jun 15, 2021 - 11:05:55 AM | $17,500.00 | i414 |
| Jun 15, 2021 - 11:05:01 AM | $17,341.00 | i414 |
| Jun 15, 2021 - 11:05:01 AM | $17,316.00 | i9836 |
| Jun 15, 2021 - 11:04:02 AM | $17,291.00 | i414 |
| Jun 15, 2021 - 11:03:29 AM | $17,266.00 | i935 |
| Jun 15, 2021 - 11:03:29 AM | $17,250.00 | i414 |
| Jun 15, 2021 - 11:02:44 AM | $17,206.00 | i935 |
| Jun 15, 2021 - 11:02:44 AM | $17,181.00 | i414 |
| Jun 15, 2021 - 11:01:58 AM | $17,156.00 | i935 |
| Jun 15, 2021 - 11:01:58 AM | $17,131.00 | i414 |
| Jun 15, 2021 - 11:01:37 AM | $17,106.00 | i935 |
| Jun 15, 2021 - 11:01:37 AM | $17,081.00 | i414 |
| Jun 15, 2021 - 11:00:50 AM | $17,056.00 | i935 |
| Jun 15, 2021 - 11:00:04 AM | $17,031.00 | i414 |
| Jun 15, 2021 - 10:59:27 AM | $17,006.00 | i935 |
| Jun 15, 2021 - 10:59:27 AM | $17,000.00 | i9726 |
| Jun 15, 2021 - 10:59:16 AM | $16,825.00 | i9726 |
| Jun 15, 2021 - 10:59:16 AM | $16,800.00 | i414 |
| Jun 15, 2021 - 10:58:26 AM | $16,696.00 | i414 |
| Jun 15, 2021 - 10:58:26 AM | $16,671.00 | i9172 |
| Jun 15, 2021 - 10:57:56 AM | $16,425.00 | i9172 |
| Jun 15, 2021 - 10:57:56 AM | $16,400.00 | i414 |
| Jun 15, 2021 - 10:57:20 AM | $16,225.00 | i9172 |
| Jun 15, 2021 - 10:57:20 AM | $16,200.00 | i414 |
| Jun 15, 2021 - 10:56:47 AM | $15,625.00 | i9172 |
| Jun 15, 2021 - 10:56:47 AM | $15,600.00 | i414 |
| Jun 15, 2021 - 10:56:28 AM | $15,225.00 | i9172 |
| Jun 15, 2021 - 10:56:28 AM | $15,200.00 | i414 |
| Jun 15, 2021 - 10:55:59 AM | $15,075.00 | i9172 |
| Jun 15, 2021 - 10:55:59 AM | $15,050.00 | i9726 |
| Jun 15, 2021 - 10:54:56 AM | $14,625.00 | i9172 |
| Jun 15, 2021 - 10:54:56 AM | $14,600.00 | i9726 |
| Jun 15, 2021 - 10:51:01 AM | $14,575.00 | i9172 |
| Jun 15, 2021 - 10:51:01 AM | $14,550.00 | i9726 |
| Jun 15, 2021 - 10:42:51 AM | $14,525.00 | i9172 |
| Jun 15, 2021 - 10:42:51 AM | $14,500.00 | i935 |
| Jun 15, 2021 - 10:42:26 AM | $14,125.00 | i935 |
| Jun 15, 2021 - 10:42:26 AM | $14,100.00 | i9172 |
| Jun 15, 2021 - 10:42:18 AM | $14,075.00 | i935 |
| Jun 15, 2021 - 10:42:18 AM | $14,050.00 | i9172 |
| Jun 15, 2021 - 10:39:19 AM | $14,025.00 | i935 |
| Jun 15, 2021 - 10:39:19 AM | $14,000.00 | i41 |
| Jun 15, 2021 - 10:36:24 AM | $13,725.00 | i41 |
| Jun 15, 2021 - 10:36:24 AM | $13,700.00 | i9726 |
| Jun 15, 2021 - 10:33:17 AM | $13,630.00 | i41 |
| Jun 15, 2021 - 10:33:17 AM | $13,605.00 | i9726 |
| Jun 15, 2021 - 10:30:41 AM | $13,580.00 | i41 |
| Jun 15, 2021 - 10:30:41 AM | $13,555.00 | i9726 |
| Jun 15, 2021 - 10:24:00 AM | $13,425.00 | i41 |
| Jun 15, 2021 - 10:24:00 AM | $13,400.00 | i9726 |
| Jun 15, 2021 - 10:20:13 AM | $13,325.00 | i41 |
| Jun 15, 2021 - 10:20:13 AM | $13,300.00 | i9726 |
| Jun 15, 2021 - 10:19:49 AM | $13,175.00 | i41 |
| Jun 15, 2021 - 10:19:49 AM | $13,150.00 | i9726 |
| Jun 15, 2021 - 10:15:42 AM | $13,125.00 | i41 |
| Jun 15, 2021 - 10:15:42 AM | $13,100.00 | i9726 |
| Jun 15, 2021 - 10:15:22 AM | $13,075.00 | i41 |
| Jun 15, 2021 - 10:15:22 AM | $13,050.00 | i9726 |
| Jun 15, 2021 - 10:15:10 AM | $13,025.00 | i41 |
| Jun 15, 2021 - 10:15:10 AM | $13,000.00 | i9726 |
| Jun 15, 2021 - 10:05:44 AM | $12,075.00 | i41 |
| Jun 15, 2021 - 10:05:44 AM | $12,050.00 | i9726 |
| Jun 15, 2021 - 9:01:44 AM | $12,025.00 | i9726 |
| Jun 15, 2021 - 9:01:31 AM | $12,000.00 | i10695 |
| Jun 15, 2021 - 9:01:32 AM | $12,000.00 | i9726 |
| Jun 15, 2021 - 9:00:33 AM | $11,625.00 | i10695 |
| Jun 15, 2021 - 9:00:33 AM | $11,600.00 | i9726 |
| Jun 15, 2021 - 8:53:54 AM | $11,525.00 | i10695 |
| Jun 15, 2021 - 8:53:54 AM | $11,500.00 | i9726 |
| Jun 15, 2021 - 8:53:34 AM | $11,125.00 | i10695 |
| Jun 15, 2021 - 8:53:34 AM | $11,100.00 | i9726 |
| Jun 15, 2021 - 8:28:00 AM | $11,025.00 | i10695 |
| Jun 15, 2021 - 8:28:00 AM | $11,000.00 | i9726 |
| Jun 15, 2021 - 8:27:44 AM | $10,775.00 | i10695 |
| Jun 15, 2021 - 8:27:44 AM | $10,750.00 | i9726 |
| Jun 15, 2021 - 8:27:19 AM | $10,625.00 | i10695 |
| Jun 15, 2021 - 8:27:19 AM | $10,600.00 | i9726 |
| Jun 15, 2021 - 8:26:50 AM | $10,525.00 | i10695 |
| Jun 15, 2021 - 8:26:50 AM | $10,500.00 | i9726 |
| Jun 15, 2021 - 8:26:37 AM | $10,325.00 | i10695 |
| Jun 15, 2021 - 8:26:37 AM | $10,300.00 | i9726 |
| Jun 15, 2021 - 8:26:28 AM | $10,225.00 | i10695 |
| Jun 15, 2021 - 8:26:28 AM | $10,200.00 | i9726 |
| Jun 15, 2021 - 8:26:18 AM | $10,125.00 | i10695 |
| Jun 15, 2021 - 8:26:18 AM | $10,100.00 | i9726 |
| Jun 15, 2021 - 8:26:01 AM | $10,075.00 | i10695 |
| Jun 15, 2021 - 8:26:01 AM | $10,050.00 | i9726 |
| Jun 14, 2021 - 10:00:42 PM | $10,025.00 | i10695 |
| Jun 14, 2021 - 10:00:28 PM | $10,000.00 | i10452 |
| Jun 14, 2021 - 10:00:29 PM | $10,000.00 | i10695 |
| Jun 14, 2021 - 10:00:12 PM | $9,025.00 | i10452 |
| Jun 14, 2021 - 10:00:12 PM | $9,000.00 | i10695 |
| Jun 14, 2021 - 9:49:09 PM | $8,580.55 | i10452 |
| Jun 14, 2021 - 9:48:41 PM | $8,555.55 | i6003 |
| Jun 14, 2021 - 9:48:41 PM | $8,550.00 | i10452 |
| Jun 14, 2021 - 7:28:56 PM | $8,525.00 | i6003 |
| Jun 12, 2021 - 11:41:35 PM | $8,500.00 | i9726 |
| Jun 12, 2021 - 11:41:36 PM | $8,500.00 | i5734 |
| Jun 11, 2021 - 8:39:21 PM | $8,375.00 | i9726 |
| Jun 11, 2021 - 8:39:21 PM | $8,350.00 | i8447 |
| Jun 11, 2021 - 8:38:51 PM | $8,075.00 | i9726 |
| Jun 11, 2021 - 8:38:51 PM | $8,050.00 | i8447 |
| Jun 11, 2021 - 7:52:05 PM | $8,025.00 | i9726 |
| Jun 11, 2021 - 7:52:05 PM | $8,000.00 | i5734 |
| Jun 11, 2021 - 12:00:23 PM | $7,225.00 | i9726 |
| Jun 10, 2021 - 9:48:10 AM | $7,200.00 | i8447 |
| Jun 10, 2021 - 9:48:10 AM | $7,177.77 | i9168 |
| Jun 8, 2021 - 12:29:20 PM | $7,152.77 | i8447 |
| Jun 8, 2021 - 12:29:20 PM | $7,127.77 | i6003 |
| Jun 8, 2021 - 12:28:40 PM | $7,102.77 | i8447 |
| Jun 8, 2021 - 12:28:40 PM | $7,077.77 | i6003 |
| Jun 8, 2021 - 3:20:08 AM | $7,025.00 | i8447 |
| Jun 8, 2021 - 3:20:08 AM | $7,000.00 | i9726 |
| Jun 8, 2021 - 3:19:49 AM | $6,875.00 | i9726 |
| Jun 8, 2021 - 3:19:49 AM | $6,850.00 | i8447 |
| Jun 7, 2021 - 8:17:48 AM | $6,825.00 | i9726 |
| Jun 7, 2021 - 8:17:48 AM | $6,800.00 | i8447 |
| Jun 7, 2021 - 1:58:34 AM | $6,025.00 | i8447 |
| Jun 7, 2021 - 1:58:34 AM | $6,000.00 | i2762 |
| Jun 7, 2021 - 1:27:31 AM | $5,075.00 | i2762 |
| Jun 7, 2021 - 1:27:31 AM | $5,050.00 | i8090 |
| Jun 6, 2021 - 9:40:52 PM | $5,025.00 | i2762 |
| Jun 6, 2021 - 9:40:52 PM | $5,000.00 | i6003 |
| Jun 6, 2021 - 9:13:07 PM | $4,825.00 | i6003 |
| Jun 6, 2021 - 9:13:07 PM | $4,800.00 | i10426 |
| Jun 6, 2021 - 3:31:35 PM | $4,225.00 | i10426 |
| Jun 6, 2021 - 3:31:35 PM | $4,200.00 | i8447 |
| Jun 6, 2021 - 3:31:02 PM | $4,075.00 | i8447 |
| Jun 6, 2021 - 3:31:02 PM | $4,050.00 | i10426 |
| Jun 6, 2021 - 2:50:17 PM | $4,025.00 | i8447 |
| Jun 6, 2021 - 2:50:17 PM | $4,000.00 | i10426 |
| Jun 5, 2021 - 7:34:49 PM | $3,525.00 | i8447 |
| Jun 4, 2021 - 10:18:12 PM | $3,500.00 | i5734 |
| Jun 4, 2021 - 10:18:13 PM | $3,500.00 | i8447 |
| Jun 4, 2021 - 10:17:50 PM | $3,225.00 | i5734 |
| Jun 4, 2021 - 10:17:50 PM | $3,200.00 | i8447 |
| Jun 4, 2021 - 7:14:02 PM | $3,025.00 | i5734 |
| Jun 4, 2021 - 7:14:02 PM | $3,000.00 | i9726 |
| Jun 4, 2021 - 7:13:13 PM | $2,525.00 | i5734 |
| Jun 4, 2021 - 7:13:13 PM | $2,500.00 | i9726 |
| Jun 4, 2021 - 7:13:02 PM | $1,525.00 | i5734 |
| Jun 4, 2021 - 7:13:02 PM | $1,500.00 | i9726 |
| Jun 4, 2021 - 7:12:52 PM | $1,025.00 | i5734 |
| Jun 4, 2021 - 7:12:52 PM | $1,000.00 | i9726 |
| Jun 4, 2021 - 7:12:42 PM | $525.00 | i5734 |
| Jun 4, 2021 - 7:12:42 PM | $500.00 | i9726 |
| Jun 4, 2021 - 3:14:58 PM | $310.00 | i5734 |
| Jun 4, 2021 - 3:14:58 PM | $300.00 | i10261 |
| Jun 4, 2021 - 2:13:52 PM | $110.00 | i5734 |
| Jun 4, 2021 - 2:13:52 PM | $100.00 | i689 |
| Jun 4, 2021 - 1:41:03 PM | $7.50 | i689 |
| Jun 4, 2021 - 12:25:12 PM | $5.00 | i117 |