Nice Gehl 5240 Turbo Skid Steer Online Auction
All items closed
SATURDAY IN-GALLERY MARKET SALE: Saturdays April 3 & 10, 2021 from 10:00 am to 3:00 pm at 100 Clover Green, Peachtree City, GA 30269 (Gleaton's Gallery) 
GALLERY PICK UP: Tuesday, April 13, 10:00 am - 4:00 pm at 100 Clover Green, Peachtree City, GA 30269 
This is an Online Auction presented by Gleaton's. Gleaton's is the best auction company and highest rated online auction marketplace in Metro Atlanta area. Gleaton's is the go to company for Estate Sales in Atlanta GA area, Business Liquidations in Metro Atlanta and Georgia Region & Real Estate Auctions and Listings.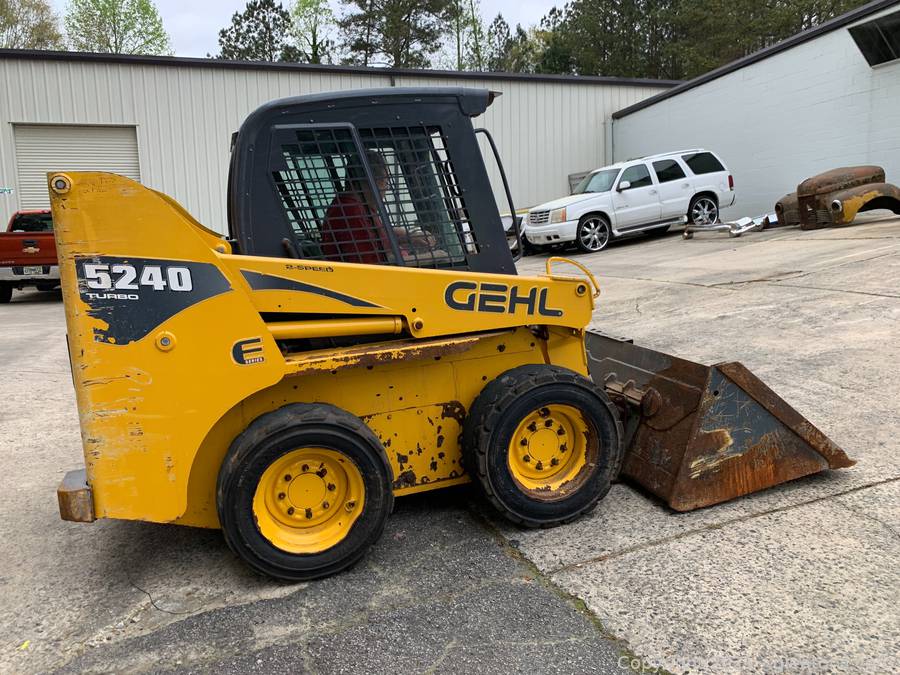 Gehl 5240 Turbo Skidsteer
Bidding is

closed

.
High Bid:
$10,125.00
NA
Bidding Ended:
Mon, Apr 12 8:00:00 pm ET
High Bidder:
9836
Bid Increment:
$25.00
Starting Bid:
$5.00
Item Location:

100 Clover Green

,

Peachtree City

,

GA

30269

Item has been viewed 718 times.

OR BEST OFFER

Everything is working- runs great
Come test drive or see video Click Here for Video!
2 Speed
Quick Action
E Series
| | | |
| --- | --- | --- |
| Bid Date | Bid Amount | Bidder |
| Apr 11, 2021 - 3:49:08 PM | $10,125.00 | i9836 |
| Apr 11, 2021 - 3:49:08 PM | $10,100.00 | i414 |
| Apr 8, 2021 - 6:57:20 PM | $10,025.00 | i9836 |
| Apr 8, 2021 - 6:57:20 PM | $10,000.00 | i3224 |
| Apr 8, 2021 - 6:55:13 PM | $8,525.00 | i9836 |
| Apr 8, 2021 - 6:55:13 PM | $8,500.00 | i3224 |
| Apr 7, 2021 - 1:14:55 PM | $7,525.00 | i9836 |
| Apr 7, 2021 - 1:14:55 PM | $7,500.00 | i2241 |
| Apr 7, 2021 - 1:14:08 PM | $7,325.00 | i2241 |
| Apr 7, 2021 - 1:14:08 PM | $7,300.00 | i9836 |
| Apr 7, 2021 - 1:13:46 PM | $6,125.00 | i2241 |
| Apr 7, 2021 - 1:13:46 PM | $6,100.00 | i9836 |
| Apr 7, 2021 - 1:13:24 PM | $5,125.00 | i2241 |
| Apr 7, 2021 - 1:13:24 PM | $5,100.00 | i9836 |
| Apr 7, 2021 - 1:13:05 PM | $5,075.00 | i2241 |
| Apr 7, 2021 - 1:13:05 PM | $5,050.00 | i9836 |
| Apr 2, 2021 - 9:10:16 AM | $5,025.00 | i2241 |
| Apr 2, 2021 - 9:10:16 AM | $5,000.00 | i9836 |
| Mar 31, 2021 - 3:48:49 PM | $3,525.00 | i9836 |
| Mar 31, 2021 - 3:48:49 PM | $3,500.00 | i10071 |
| Mar 31, 2021 - 3:34:14 PM | $3,025.00 | i9836 |
| Mar 31, 2021 - 3:34:14 PM | $3,000.00 | i6235 |
| Mar 31, 2021 - 3:34:05 PM | $2,575.00 | i9836 |
| Mar 31, 2021 - 3:34:05 PM | $2,550.00 | i6235 |
| Mar 31, 2021 - 3:33:59 PM | $2,525.00 | i9836 |
| Mar 31, 2021 - 3:33:59 PM | $2,500.00 | i6235 |
| Mar 31, 2021 - 3:33:46 PM | $2,025.00 | i9836 |
| Mar 31, 2021 - 3:33:46 PM | $2,000.00 | i6235 |
| Mar 31, 2021 - 3:33:31 PM | $1,525.00 | i9836 |
| Mar 31, 2021 - 3:33:31 PM | $1,500.00 | i6235 |
| Mar 31, 2021 - 1:30:22 PM | $1,078.65 | i9836 |
| Mar 31, 2021 - 1:30:22 PM | $1,053.65 | i296 |
| Mar 31, 2021 - 1:07:32 PM | $1,028.65 | i9836 |
| Mar 31, 2021 - 1:07:32 PM | $1,003.65 | i2592 |
| Mar 31, 2021 - 1:07:29 PM | $978.65 | i9836 |
| Mar 31, 2021 - 1:07:29 PM | $953.65 | i2592 |
| Mar 31, 2021 - 1:07:25 PM | $928.65 | i9836 |
| Mar 31, 2021 - 1:07:25 PM | $903.65 | i2592 |
| Mar 31, 2021 - 1:07:21 PM | $878.65 | i9836 |
| Mar 31, 2021 - 1:07:21 PM | $853.65 | i2592 |
| Mar 31, 2021 - 1:07:17 PM | $828.65 | i9836 |
| Mar 31, 2021 - 1:07:17 PM | $803.65 | i2592 |
| Mar 31, 2021 - 1:07:13 PM | $778.65 | i9836 |
| Mar 31, 2021 - 1:07:13 PM | $753.65 | i2592 |
| Mar 31, 2021 - 1:07:09 PM | $728.65 | i9836 |
| Mar 31, 2021 - 1:07:09 PM | $703.65 | i2592 |
| Mar 31, 2021 - 1:07:05 PM | $678.65 | i9836 |
| Mar 31, 2021 - 1:07:05 PM | $653.65 | i2592 |
| Mar 31, 2021 - 1:07:01 PM | $628.65 | i9836 |
| Mar 31, 2021 - 1:07:01 PM | $603.65 | i2592 |
| Mar 31, 2021 - 1:06:51 PM | $578.65 | i9836 |
| Mar 31, 2021 - 1:06:51 PM | $553.65 | i2592 |
| Mar 31, 2021 - 1:06:47 PM | $528.65 | i9836 |
| Mar 31, 2021 - 1:06:47 PM | $503.65 | i2592 |
| Mar 31, 2021 - 1:06:43 PM | $493.65 | i9836 |
| Mar 31, 2021 - 1:06:43 PM | $483.65 | i2592 |
| Mar 31, 2021 - 1:06:38 PM | $473.65 | i9836 |
| Mar 31, 2021 - 1:06:38 PM | $463.65 | i2592 |
| Mar 31, 2021 - 12:47:49 PM | $453.65 | i9836 |
| Mar 31, 2021 - 12:47:49 PM | $443.65 | i2592 |
| Mar 31, 2021 - 11:21:48 AM | $433.65 | i9836 |
| Mar 31, 2021 - 11:21:48 AM | $423.65 | i364 |
| Mar 31, 2021 - 8:53:12 AM | $5.00 | i364 |