2000 Toyota 4Runner SR5 that Runs Well
Bidding Now! -
ends Mon, Mar 1 at 08:00:00 pm
SATURDAY IN-GALLERY MARKET SALE: Saturday February 27 2021 from 10:00 am to 2:00 pm at 100 Clover Green, Peachtree City, GA 30269 (Gleaton's Gallery) 
GALLERY PICK UP: Tuesday, March 2, 10:00 am - 2:00 pm at 100 Clover Green, Peachtree City, GA 30269 CLICK HERE FOR PICK UP APPOINTMENT 
This is an Online Auction presented by Gleaton's. Gleaton's is the best auction company and highest rated online auction marketplace in Metro Atlanta area. Gleaton's is the go to company for Estate Sales in Atlanta GA area, Business Liquidations in Metro Atlanta and Georgia Region & Real Estate Auctions and Listings.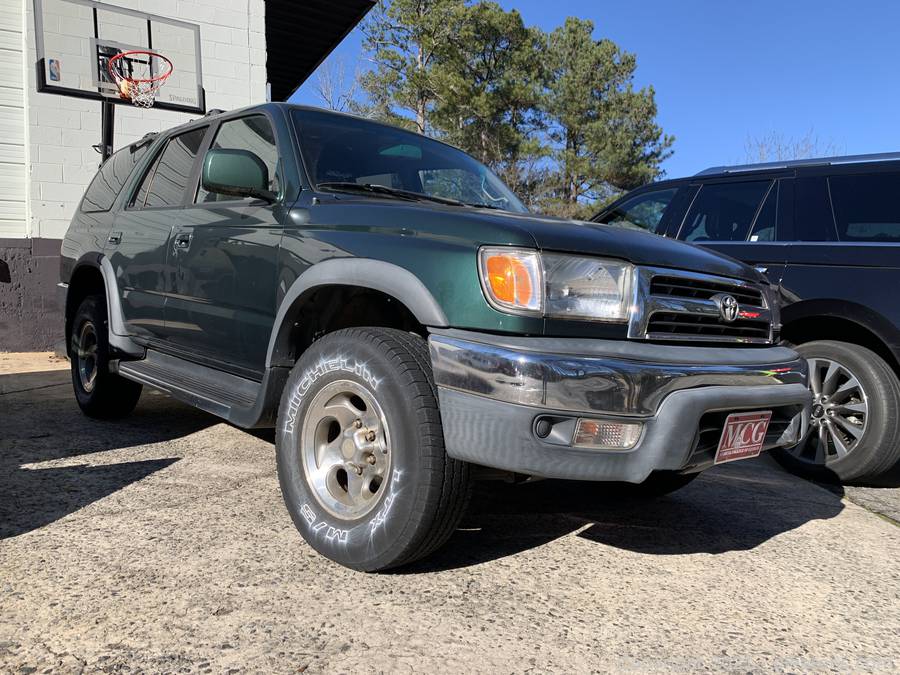 2000 Toyota 4Runner SR5 that Runs Good
Current Bid
$1,525.00
NA
Time Remaining:
4 days, 19 hours, 19 minutes
Extended Bidding:
i
Bidding Ends:
Mon, Mar 1 8:00:00 pm ET
High Bidder:
5857
Bid Increment:
$25.00
Starting Bid:
$5.00
Item Location:

100 Clover Green

,

Peachtree City

,

GA

30269

Item has been viewed 713 times.

OR BEST OFFER

Clean Title
6 Cylinders, runs very well
164427 Miles
jt3gn86r1yo138151
| | | |
| --- | --- | --- |
| Bid Date | Bid Amount | Bidder |
| Feb 24, 2021 - 7:52:33 PM | $1,525.00 | i5857 |
| Feb 24, 2021 - 7:52:19 PM | $1,500.00 | i41 |
| Feb 24, 2021 - 7:52:20 PM | $1,500.00 | i5857 |
| Feb 24, 2021 - 4:02:19 PM | $1,475.00 | i41 |
| Feb 24, 2021 - 4:02:19 PM | $1,450.00 | i8090 |
| Feb 24, 2021 - 4:02:05 PM | $1,425.00 | i41 |
| Feb 24, 2021 - 4:02:05 PM | $1,400.00 | i8090 |
| Feb 23, 2021 - 6:21:21 PM | $1,375.00 | i41 |
| Feb 23, 2021 - 6:21:21 PM | $1,350.00 | i5857 |
| Feb 23, 2021 - 6:21:08 PM | $1,325.00 | i41 |
| Feb 23, 2021 - 6:21:08 PM | $1,300.00 | i5857 |
| Feb 23, 2021 - 9:58:24 AM | $1,275.00 | i41 |
| Feb 23, 2021 - 9:58:24 AM | $1,250.00 | i8090 |
| Feb 22, 2021 - 12:31:39 PM | $1,150.50 | i8090 |
| Feb 22, 2021 - 12:31:39 PM | $1,125.50 | i7330 |
| Feb 22, 2021 - 12:20:35 PM | $1,025.00 | i7330 |
| Feb 22, 2021 - 12:20:35 PM | $1,000.00 | i8090 |
| Feb 22, 2021 - 8:38:58 AM | $975.50 | i8090 |
| Feb 22, 2021 - 8:38:58 AM | $950.50 | i7330 |
| Feb 22, 2021 - 8:14:48 AM | $875.00 | i7330 |
| Feb 21, 2021 - 11:16:43 PM | $850.00 | i8090 |
| Feb 21, 2021 - 1:56:39 PM | $825.00 | i1166 |
| Feb 21, 2021 - 10:29:21 AM | $800.00 | i5857 |
| Feb 21, 2021 - 10:29:22 AM | $800.00 | i6075 |
| Feb 21, 2021 - 10:27:48 AM | $775.00 | i5857 |
| Feb 21, 2021 - 10:27:48 AM | $750.00 | i7591 |
| Feb 21, 2021 - 10:27:26 AM | $675.00 | i7591 |
| Feb 21, 2021 - 10:27:26 AM | $650.00 | i5857 |
| Feb 21, 2021 - 10:07:03 AM | $625.00 | i7591 |
| Feb 21, 2021 - 10:07:03 AM | $600.00 | i6646 |
| Feb 21, 2021 - 12:25:08 AM | $526.00 | i6646 |
| Feb 21, 2021 - 12:25:08 AM | $501.00 | i6075 |
| Feb 20, 2021 - 9:22:01 PM | $499.00 | i6075 |
| Feb 20, 2021 - 9:22:01 PM | $489.00 | i6423 |
| Feb 20, 2021 - 9:21:33 PM | $430.00 | i6423 |
| Feb 20, 2021 - 9:21:33 PM | $420.00 | i6075 |
| Feb 20, 2021 - 12:00:18 PM | $410.00 | i6423 |
| Feb 20, 2021 - 12:00:18 PM | $400.00 | i8447 |
| Feb 20, 2021 - 10:23:53 AM | $340.00 | i6423 |
| Feb 20, 2021 - 10:23:53 AM | $330.00 | i7542 |
| Feb 20, 2021 - 10:23:36 AM | $320.00 | i6423 |
| Feb 20, 2021 - 10:23:36 AM | $310.00 | i7542 |
| Feb 20, 2021 - 10:23:28 AM | $300.00 | i6423 |
| Feb 20, 2021 - 10:23:28 AM | $290.00 | i7542 |
| Feb 20, 2021 - 10:23:20 AM | $280.00 | i6423 |
| Feb 20, 2021 - 10:23:20 AM | $270.00 | i7542 |
| Feb 20, 2021 - 2:57:56 AM | $260.00 | i6423 |
| Feb 20, 2021 - 2:57:56 AM | $250.00 | i929 |
| Feb 20, 2021 - 2:57:43 AM | $235.00 | i6423 |
| Feb 20, 2021 - 2:57:43 AM | $225.00 | i929 |
| Feb 20, 2021 - 2:57:07 AM | $210.00 | i6423 |
| Feb 20, 2021 - 2:57:07 AM | $200.00 | i929 |
| Feb 20, 2021 - 2:56:51 AM | $130.00 | i6423 |
| Feb 20, 2021 - 2:56:51 AM | $120.00 | i929 |
| Feb 19, 2021 - 9:19:59 PM | $110.00 | i6423 |
| Feb 19, 2021 - 9:19:59 PM | $100.00 | i8447 |
| Feb 19, 2021 - 9:04:52 PM | $55.00 | i8447 |
| Feb 19, 2021 - 9:04:52 PM | $50.00 | i9139 |
| Feb 19, 2021 - 9:04:28 PM | $35.00 | i9139 |
| Feb 19, 2021 - 9:04:28 PM | $30.00 | i5857 |
| Feb 19, 2021 - 9:03:05 PM | $15.00 | i9139 |
| Feb 19, 2021 - 9:03:05 PM | $12.50 | i5857 |
| Feb 19, 2021 - 7:17:58 PM | $10.00 | i9139 |
| Feb 19, 2021 - 7:17:58 PM | $7.50 | i9481 |
| Feb 19, 2021 - 5:14:16 PM | $5.00 | i9139 |