Nice E-Z-Go Textron Golf Cart with Sunbrella Enclosure
All items closed
IN-GALLERY ESTATE SALE: Monday, December 28, 2020 from 10:00 am to 2:00 pm at 100 Clover Green, Peachtree City, GA 30269 (Gleaton's Gallery) 
GALLERY PICK UP: Wednesday, January 6, 10:00 am - 2:00 pm at 100 Clover Green, Peachtree City, GA 30269 **Or email Lauren@Gleatons.com to schedule a different pick up time.
This is an Online Auction presented by Gleaton's. Gleaton's is the best auction company and highest rated online auction marketplace in Metro Atlanta area. Gleaton's is the go to company for Estate Sales in Atlanta GA area, Business Liquidations in Metro Atlanta and Georgia Region & Real Estate Auctions and Listings.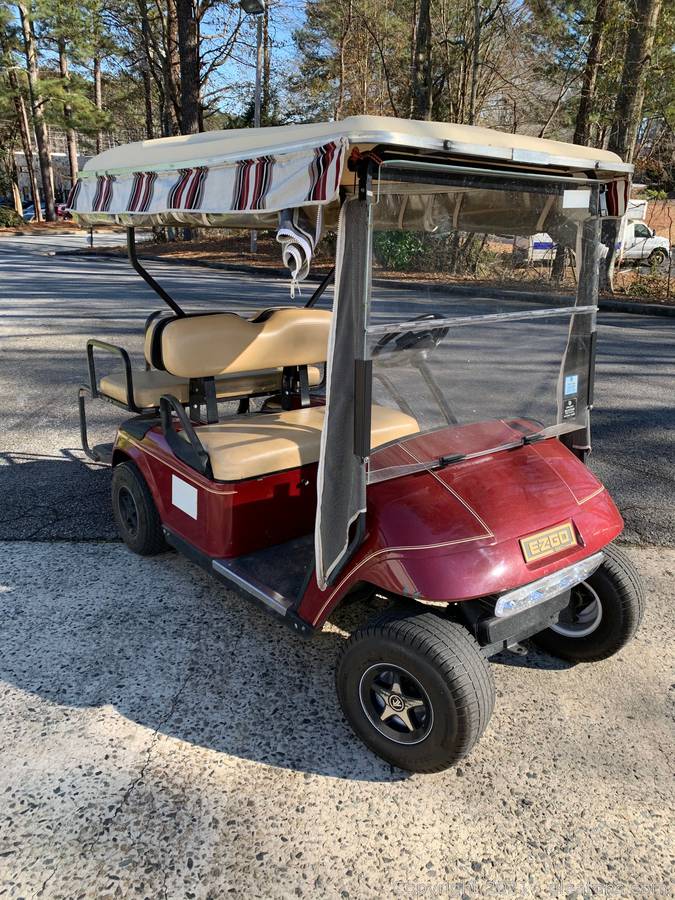 Nice E-Z-Go Textron Golf Cart with Sunbrella Enclosure
Bidding is

closed

.
High Bid:
$2,106.00
NA
Bidding Ended:
Sun, Jan 17 8:03:26 pm ET
High Bidder:
9399
Bid Increment:
$25.00
Starting Bid:
$5.00
Item Location:

100 Clover Green

,

Peachtree City

,

GA

30269

Item has been viewed 912 times.

OR BEST OFFER

Serial Number : 1530155
Burgundy Color with matching Sunberella Enclosure in good working condition
Charger Included
Front and Back lights work
| | | |
| --- | --- | --- |
| Bid Date | Bid Amount | Bidder |
| Jan 17, 2021 - 8:02:26 PM | $2,106.00 | i9399 |
| Jan 17, 2021 - 8:01:39 PM | $2,081.00 | i5039 |
| Jan 17, 2021 - 8:01:39 PM | $2,057.00 | i515 |
| Jan 17, 2021 - 8:00:40 PM | $2,056.00 | i515 |
| Jan 17, 2021 - 7:59:50 PM | $2,031.00 | i5039 |
| Jan 17, 2021 - 7:59:50 PM | $2,007.00 | i515 |
| Jan 17, 2021 - 7:58:08 PM | $2,006.00 | i515 |
| Jan 17, 2021 - 7:57:48 PM | $1,981.00 | i5039 |
| Jan 17, 2021 - 7:57:14 PM | $1,956.00 | i515 |
| Jan 17, 2021 - 7:57:14 PM | $1,950.00 | i5039 |
| Jan 17, 2021 - 7:57:00 PM | $1,925.00 | i515 |
| Jan 17, 2021 - 7:57:00 PM | $1,900.00 | i5039 |
| Jan 17, 2021 - 7:56:50 PM | $1,875.00 | i515 |
| Jan 17, 2021 - 7:56:50 PM | $1,850.00 | i5039 |
| Jan 17, 2021 - 7:56:40 PM | $1,825.00 | i515 |
| Jan 17, 2021 - 7:56:40 PM | $1,800.00 | i5039 |
| Jan 17, 2021 - 7:56:34 PM | $1,775.00 | i515 |
| Jan 17, 2021 - 7:56:34 PM | $1,750.00 | i5039 |
| Jan 17, 2021 - 7:56:26 PM | $1,725.00 | i515 |
| Jan 17, 2021 - 7:56:26 PM | $1,700.00 | i5039 |
| Jan 17, 2021 - 7:56:14 PM | $1,675.00 | i515 |
| Jan 17, 2021 - 7:56:14 PM | $1,650.00 | i5039 |
| Jan 17, 2021 - 3:06:41 PM | $1,625.00 | i515 |
| Jan 17, 2021 - 3:06:41 PM | $1,600.00 | i9453 |
| Jan 17, 2021 - 2:51:39 PM | $1,525.00 | i9453 |
| Jan 17, 2021 - 2:51:39 PM | $1,500.00 | i515 |
| Jan 17, 2021 - 2:51:13 PM | $1,425.00 | i515 |
| Jan 17, 2021 - 2:51:13 PM | $1,400.00 | i9453 |
| Jan 17, 2021 - 2:50:27 PM | $1,325.00 | i515 |
| Jan 17, 2021 - 2:50:27 PM | $1,300.00 | i9453 |
| Jan 17, 2021 - 12:52:02 PM | $1,251.00 | i515 |
| Jan 16, 2021 - 3:42:27 PM | $1,226.00 | i9310 |
| Jan 16, 2021 - 3:41:46 PM | $1,201.00 | i515 |
| Jan 16, 2021 - 3:41:46 PM | $1,200.00 | i9310 |
| Jan 16, 2021 - 12:40:54 PM | $1,125.00 | i515 |
| Jan 16, 2021 - 12:40:54 PM | $1,100.00 | i9310 |
| Jan 16, 2021 - 12:39:06 PM | $1,076.00 | i9310 |
| Jan 16, 2021 - 12:39:06 PM | $1,051.00 | i515 |
| Jan 14, 2021 - 4:39:27 PM | $1,001.00 | i9310 |
| Jan 11, 2021 - 8:29:12 AM | $976.00 | i8284 |
| Jan 9, 2021 - 4:28:25 PM | $951.00 | i9386 |
| Jan 9, 2021 - 2:47:52 PM | $926.00 | i9389 |
| Jan 9, 2021 - 2:47:43 PM | $901.00 | i9386 |
| Jan 9, 2021 - 2:47:43 PM | $900.00 | i9389 |
| Jan 9, 2021 - 2:47:26 PM | $875.00 | i9386 |
| Jan 9, 2021 - 2:47:26 PM | $850.00 | i9389 |
| Jan 9, 2021 - 2:47:02 PM | $825.00 | i9386 |
| Jan 9, 2021 - 2:47:02 PM | $800.00 | i9389 |
| Jan 8, 2021 - 11:46:26 PM | $775.00 | i9386 |
| Jan 8, 2021 - 11:46:26 PM | $750.00 | i2762 |
| Jan 8, 2021 - 2:13:00 PM | $725.00 | i2762 |
| Jan 8, 2021 - 2:13:00 PM | $700.00 | i104 |
| Jan 8, 2021 - 10:28:47 AM | $625.00 | i2762 |
| Jan 8, 2021 - 10:28:47 AM | $600.00 | i5834 |
| Jan 8, 2021 - 10:15:37 AM | $112.00 | i5834 |
| Jan 8, 2021 - 10:15:37 AM | $102.00 | i6048 |
| Jan 8, 2021 - 10:15:25 AM | $95.00 | i5834 |
| Jan 8, 2021 - 10:15:25 AM | $90.00 | i6048 |
| Jan 8, 2021 - 10:15:00 AM | $75.00 | i5834 |
| Jan 8, 2021 - 10:15:00 AM | $70.00 | i6048 |
| Jan 8, 2021 - 10:14:17 AM | $65.00 | i5834 |
| Jan 8, 2021 - 10:14:17 AM | $60.00 | i6048 |
| Jan 8, 2021 - 10:13:56 AM | $55.00 | i5834 |
| Jan 8, 2021 - 10:13:56 AM | $50.00 | i6048 |
| Jan 8, 2021 - 10:13:31 AM | $35.00 | i5834 |
| Jan 8, 2021 - 10:13:31 AM | $30.00 | i6048 |
| Jan 8, 2021 - 10:13:17 AM | $17.50 | i5834 |
| Jan 8, 2021 - 10:13:17 AM | $15.00 | i6048 |
| Jan 8, 2021 - 10:12:59 AM | $10.00 | i5834 |
| Jan 8, 2021 - 10:12:59 AM | $7.50 | i6048 |
| Jan 8, 2021 - 10:04:47 AM | $5.00 | i5834 |